Arizona-to-Hawaii flight returns to airport with gauge issue

Associated Press
6/22/2018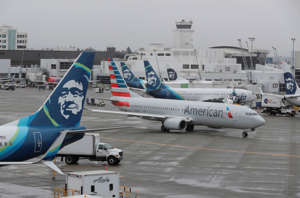 © (AP Photo/Ted S. Warren) An American Airlines plane taxis past parked Alaska Airlines airplanes, Friday, April 13, 2018, at the Seattle-Tacoma International Airport in Seattle. (AP Photo/Ted S. Warren) PHOENIX — Authorities say an American Airlines flight from Arizona to Hawaii had to return to the Phoenix airport because of a problem with an exhaust gas temperature gauge.
They say Flight 692 circled Phoenix Sky Harbor International Airport a few times Thursday to burn off fuel so an emergency landing could be avoided.
The Boeing 757 with 185 passengers and six crew members aboard landed safely.
American spokesman Ross Feinstein says passengers were being transferred to another plane that was scheduled to arrive early Friday in Honolulu.