Attorney general, special prosecutor challenge Jason Van Dyke's sentence in petition to state Supreme Court
Chicago Tribune
2/11/2019
Video by CBS News
Special prosecutors and the Illinois attorney general's office are challenging former Chicago police Officer Jason Van Dyke's prison sentence before the state's highest court.

A petition filed Monday does not object to the length of the sentence of nearly 7 years, which many activists have criticized as too lenient.
Instead, Kane County State's Attorney Joseph McMahon, appointed to handle the Van Dyke case, and Attorney General Kwame Raoul argue that Judge Vincent Gaughan sentenced Van Dyke under improper legal guidelines.
Van Dyke was convicted of one count of second-degree murder and 16 counts of aggravated battery in the on-duty shooting of Laquan McDonald more than four years ago. He was sentenced last month to 6 ¾ years in prison.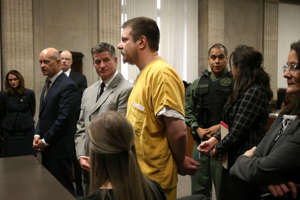 © Antonio Perez/Chicago Tribune/Pool via Reuters Former Chicago police Officer Jason Van Dyke (C) stands during his sentencing hearing at the Leighton Criminal Court Building in Chicago, Illinois, U.S., Janauary 18, 2019. Gaughan sentenced Van Dyke only on the second-degree murder conviction, ruling it was the more serious offense and the aggravated battery counts should "merge" into it for purposes of sentencing.
But the petition argues that the state Supreme Court should order Gaughan to resentence the ex-patrol officer on the 16 counts of aggravated battery because, under state law, it is considered the more serious offense. An aggravated battery with a firearm conviction carries a sentence of 6 to 30 years in prison.
Van Dyke's attorneys could file an objection within seven days, unless the higher court sets a different deadline.
Van Dyke, 40, shot McDonald in October of 2014 as the 17-year-old walked away from police on a Southwest Side street while holding a knife. Graphic police dashboard camera footage of the shooting — ordered released by a judge more than a year later — sparked weeks of chaos and political upheaval, exacerbating the already fraught relationship between Chicago police and minority communities.
His monthlong jury trial last fall ended in a historic guilty verdict, making Van Dyke the first Chicago police officer in half a century to be convicted of murder for an on-duty incident.