Billy Graham's grandson resigns from megachurch pulpit

New York Daily News
6/22/2015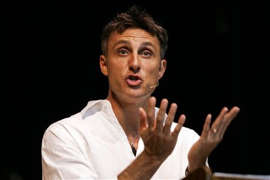 © AP Photo/Wilfredo Lee File--In this Aug. 12, 2007 file photo,Tullian Tchividjian, senior pastor of the New City Presbyterian Church, gestures as he preaches during a service in Coconut Creek, Fla. Hundreds of congregants unhappy with the leadership at a pioneering megachurch seen as a bedrock of the religious right have splintered and formed a new church.The action by the dissidents at Coral Ridge Presbyterian Church was the culmination of a feud between loyalists to an evangelical luminary, the Rev. D. James Kennedy, and his replacement as pastor, the Rev. Tullian Tchividjian, a grandson of the Rev. Billy Graham. () Billy Graham's grandson Tullian Tchividjian has stepped down from his pastorship at Coral Ridge Presbyterian Church in Fort Lauderdale, Fla., The Washington Post reported Sunday night.
Tchividjian, 42, admitted he and his estranged wife's extramarital affairs caused his departure in a statement he provided on their behalf to the newspaper.
Officials at the prominent nearly 2,000-member megachurch acknowledged that Tchividjian's admitted "moral failure" had caused him to resign the post he has held amid controversy since 2009 in their own statement to the Post.
The religious leader whose mother is the famous preacher's oldest child had asked for a sabbatical a few months ago when he discovered that his wife Kim was cheating on him, he said.
"As her affair continued, we separated," Tchividjian said. "Sadly and embarrassingly, I subsequently sought comfort in a friend and developed an inappropriate relationship myself." 
He added, "Last week I was approached by our church leaders and they asked me about my own affair. I admitted to it and it was decided that the best course of action would be for me to resign."
Members of the church, which once commanded a congregation upwards of 7,000 people challenged Tchividjian's appointment as senior pastor within his first six months of replacing longtime standard bearer James Kennedy, Christianity Today reported. The dissidents, who took issue with Tchividjian's worship style and his disavowal of conservative culture war politics, were banned and inaugurated their own separate church.
He also sparred with members of the Gospel Coalition over a theological question before leaving the group of Reformed church leaders in what he acknowledged was a "very public break-up" last year, according to Christianity Today.
But church leaders referenced only Tchividjian's marital troubles in their statement about his resignation.
"Several days ago, Pastor Tullian admitted to moral failure, acknowledging his actions disqualify him from continuing to serve as senior pastor or preach from the pulpit, and resigned – effective immediately," Rob Pacienza, executive pastor of Coral Ridge said in a statement to the Post.
He added, "We are saddened by this news, but are working with and assisting Pastor Tullian and his family to help them through this difficult time, and asking people to join us in praying that God will bring restoration through this process and healing to all involved."
Tchividjian echoed the call for healing in his statement to the newspaper.
"Both my wife and I are heartbroken over our actions and we ask you to pray for us and our family that God would give us the grace we need to weather this heart wrenching storm," he said. "We are amazingly grateful for the team of men and women who are committed to walking this difficult path with us."
He asked for prayers for "the healing of deep wounds" and added that he and his wife "kindly ask that you respect our privacy."
Follow on Twitter@tobysalkc