Black and Jewish WWI heroes finally getting Medal of Honor

Associated Press
6/2/2015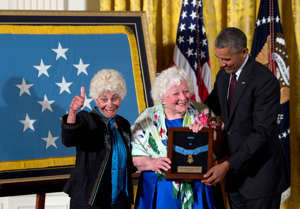 WASHINGTON (AP) — President Barack Obama awarded the Medal of Honor Tuesday to two World War I Army soldiers who may have been denied the top military honor in the past due to discrimination. "It's never too late to say thank you," Obama said.
Obama posthumously recognized Sgt. William Shemin, a Jewish soldier, and Pvt. Henry Johnson, an African-American serviceman, for their heroism rescuing comrades on the battlefields of France nearly a century ago.
"They both risked their own lives to save the lives of others," the president said.
Shemin's two daughters, Elsie and Ina, received the award on behalf of their father. New York National Guard Command Sgt. Maj. Louis Wilson accepted the medal on Johnson's behalf.
Shemin repeatedly dodged gunfire to pull wounded comrades to safety during three days of bloody battle. And Johnson rescued a wounded comrade from his all-black regiment while single-handedly fighting off a surprise German attack.
The award comes after tireless efforts by advocates for the two men led Congress to pass an exemption from Medal of Honor rules specifying that heroic actions have to have taken place within five years to be considered.
"It has taken a long time for Henry Johnson and William Shemin to receive the recognition they deserve and there are surely others whose heroism is still unacknowledged and uncelebrated," Obama said, adding that there is still work to do to ensure that the stories of all heroes are told.
"The least we can do is to say we know who you are, we know what you did for us, we are forever grateful," he said.
Elsie Shemin-Roth of suburban St. Louis worked for years to gather documents in support of the bid for her father. In the early 2000s, she learned of a law that reviewed the cases of Jews who may have been denied medals they earned in World War II and fought for passage of a law to provide similar review for Jewish World War I veterans.
"This was anti-Semitism, no question about it," Shemin-Roth, who is in her 80s, said in an interview in December when Congress passed the exemption for her father, who died in 1973. "Now a wrong has been made right and all is forgiven."
Johnson supporters pushed for the Medal of Honor for decades — with New York Sen. Chuck Schumer taking up the case. He was initially rebuffed for lack of documentation, but his staff picked up the case again years later when a trove of military records became available online. This included a communique from Gen. John Pershing describing Johnson's brave acts after coming under attack by at least 12 German soldiers while on night sentry duty on May 15, 1918.
___
Follow Nedra Pickler on Twitter at https://twitter.com/nedrapickler