Blue Bell resumes selling ice cream after listeria recall

Associated Press
8/31/2015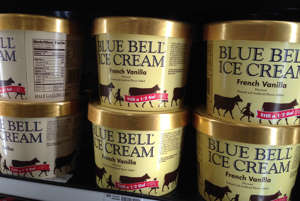 © AP Photo/Orlin Wagner, File FILE - In this April 10, 2015, file photo, Blue Bell ice cream rests on a grocery store shelf in Lawrence, Kan. Blue Bell Creameries will lay off more than a third of its workforce following a series of listeria illnesses linked to its ice cream that prompted a nationwide recall, the Texas company announced Friday, May 15, 12015. BRENHAM, Texas — Blue Bell ice cream is back.
Blue Bell Creameries has resumed selling its products in select locations Monday, four months after the Texas-based retailer halted sales due to listeria contamination.
Blue Bell ice cream is now available at stores in the Houston and Austin areas, including in the company's hometown of Brenham, plus parts of Alabama.
The company voluntarily recalled its products in April after they were linked to 10 listeria cases in four states, including three deaths in Kansas.
Production plants in Texas, Oklahoma and Alabama then underwent an extensive cleaning and decontamination, under the regulatory oversight of health officials.
Listeria bacteria can cause serious illness, especially in older adults, pregnant women and those with weakened immune systems.
___
Online:
http://bluebell.com/