Charlottesville mayor says 'a life has been lost' in protests

Reuters
8/12/2017
Video by MSNBC
Update:  At least one person was killed after white nationalists clashed with counter-demonstrators in Charlottesville, Virginia, on Saturday, prompting the governor to declare an emergency and halt a rally over removing a Confederate general's statue from a public park.
"I am heartbroken that a life has been lost here," Charlottesville Mayor Mike Singer said on his Twitter feed. "I urge all people of good will - go home."
Tensions in the city intensified hours after the melee when at least one vehicle plowed a crowd of people gathered in a street two blocks from the park. Multiple people were injured in the incident, the Charlottesville Police Department said on its Facebook page.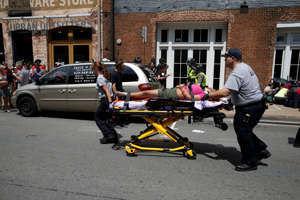 It was not clear whether this incident was connected to the earlier confrontations. But a video shown on CNN appeared to show a silver sedan driving at high speed into the crowd before reversing.
(Additional reporting by Ian Simpson in Washington and Alex Dobuzinskis in Los Angeles; Editing by Frank McGurty and Lisa Von Ahn)
Earlier Update:  Charlottesville mayor says 'a life has been lost' in protests

This is a breaking news story. Please check back for updates. 

Video by USA Today. Warning. This video contains graphic content. 
Earlier story: CHARLOTTESVILLE, Va., Aug 12 (Reuters) - At least one vehicle hit a crowd of people gathered in a Charlottesville, Virginia, on Saturday, hours after police broke up a clash between white nationalists and counter-protesters, according to witnesses, but it was not clear whether the incident was connected to the earlier melee.

The accident involved three vehicles, and there were multiple injuries, Charlottesville city spokeswoman Miriam Dickler said in a text message.
At least four injured people were spotted at the location where the vehicle struck demonstrators, including one person who was taken away on a stretcher by paramedics. Multiple ambulances were on the scene soon after the early-afternoon incident.
Charlottesville police said in a statement on Facebook that they and Virginia State Police were at the scene of the incident in the city's downtown.
(Reporting by Brandon Shulleeta; Writing by Frank McGurty; Editing by Lisa Von Ahn)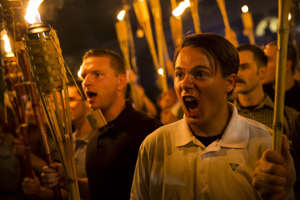 White supremacist rally in Charlottesville, Va.: Protests, violence and aftermath

Photo gallery by photo services