Disabled veteran shot while guarding sea turtle nest

Sun Sentinel
7/19/2015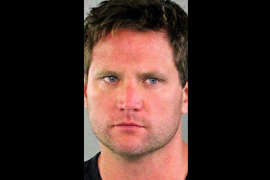 © Broward Sheriff's Office Michael Q. McAuliffe, 38, was jailed without bail Saturday after a Friday night confrontation with two sea turtle rescue volunteers. Broward Sheriff's Office Disabled combat veteran Stan Pannaman had every reason to think that surviving a bomb blast during the Vietnam War might be his closest brush with death.
But five decades later, the ex-Marine got another scare on a Lauderdale-by-the-Sea, Fla., beach when he was shot and wounded with his own gun while volunteering to protect sea turtle nests, according to the Broward County sheriff's office.
"It was bizarre, for lack of another word," Pannaman said Sunday. "After he shot me, the guy looked like he was in shock. He looked very, very surprised. He actually headed toward me and said, 'How are you? Are you OK?'
"Sir, you shot me. How could I be OK?" Pannaman said he replied.
The surreal scene played out about 11 p.m. Friday when Pannaman and a friend, South Florida Audubon Society President Doug Young, set off to monitor turtle nest sites.
At the entrance to the beach, the men were confronted by a man who began cursing them, saying, "I hate sea turtle people. You're all f------ crazy," said Pannaman.
Trying to ignore the man — later identified by sheriff's deputies as Michael Q. McAuliffe, 38 — Pannaman and Young walked to another part of the beach. But McAuliffe approached, Pannaman said, and began screaming as he yanked up stakes and tore down yellow tape from around a nest site.
Pannaman said he saw McAuliffe take a swing at Young. "Then he started coming at me," said Pannaman, who is classified as fully disabled and walks with a cane. "That's when I pulled a handgun from the pocket of my shorts."
Pannaman said he did not point the gun — a .32 caliber Kel-Tec pistol — directly at his assailant, but turned so the man could see it. "He stopped," said Pannaman. "I thought I had defused the situation."
But seconds after Pannaman put the gun back in his pocket, McAuliffe "lunged at me, grabbed me and threw me down onto the sand," he said.
As they wrestled, McAuliffe hit him in the face and gouged his head, Pannaman said. "I saw stars for a few minutes," he said.
When McAuliffe got hold of the pistol, he stood up, Pannaman said, and declared, "I'm going to shoot you with your flare gun."
"Sir," Pannaman said, "it's not a flare gun. It's a real gun."
Thinking McAuliffe was about to pull the trigger, Pannaman said he "spun to get out of the way," and a bullet hit him in the left hip.
At Broward Health Medical Center, Pannaman said, doctors told him the bullet was lodged in his left buttock and would be removed in four weeks, after inflammation subsides.
McAuliffe was jailed on two charges of aggravated battery with a deadly weapon, possession of a weapon by a convicted felon and battery on a person 65 or older.
Richard Whitecloud, founder of Sea Turtle Oversight Protection, which works with Young's group to help distressed hatchlings, said he gets reports nightly about turtle volunteers getting harassed.
Carrying a gun is not part of his group's protocol, he said.
Pannaman said his experience would not discourage him from protecting sea turtles, or from carrying a licensed handgun at all times.
And he is grateful that he was not carrying the sidearm he normally carries: a Taurus .357 Magnum. "One of those bullets in the same place could have traveled through my butt into my groin," he said.
"But really, monitoring sea turtle nests should not be a life-threatening experience."
––––
Staff writer Anne Geggis contributed to this report.