Fox News Is Preparing to Cut Ties with Bill O'Reilly

The Wall Street Journal.
4/19/2017
Related: Is the O'Reilly era at Fox News coming to an end? (Provided by MSNBC)
Fox News is preparing to cut ties with its biggest star, Bill O'Reilly, according to people close to the situation.

A final decision on Mr. O'Reilly's fate could come as early as the next several days, the people said. Mr. O'Reilly, host of "The O'Reilly Factor," has been ensnared in a sexual-harassment scandal related to previously undisclosed settlements he and Fox News paid to women who worked on or appeared on his program.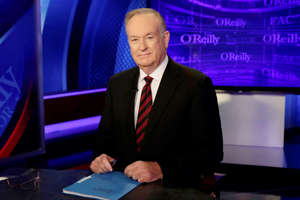 Bill O'Reilly's downfall at Fox Since an April 1 article in the New York Times detailing $13 million in settlements paid to five women, pressure has been growing on Fox News, both internally and from activists, to remove Mr. O'Reilly.
Initially, Fox News and parent company 21st Century Fox stood by their highly-rated host. Mr. O'Reilly has denied any wrongdoing, saying he paid settlements to "put to rest any controversies to spare my children."
However, as advertisers fled his show, debate inside company ensued over the pros and cons of keeping Mr. O'Reilly on the air. His show draws about 4 million viewers a night, and the controversy didn't dent his ratings.
21st Century Fox and Wall Street Journal parent company News Corp share common ownership.
Mr. O'Reilly hasn't been on the air since April 11, when he ended his show by announcing plans for a vacation. While Mr. O'Reilly had planned to take this week off, the early start to his vacation wasn't part of the original plan, people familiar with the matter said. The plan was for him to return to his show next Monday.
On Tuesday, an attorney for Mr. O'Reilly said the host has "been subjected to a brutal campaign of character assassination that is unprecedented in post-McCarthyist America" and added that it has "evidence that the smear campaign is being orchestrated by far-left organizations bent on destroying O'Reilly and Fox News for political and financial reasons."
The negative publicity for 21st Century Fox follows the exit last year of Fox News Chairman and chief executive Roger Ailes that put a spotlight on the treatment of women at the network. Mr. Ailes resigned in July after he was accused of sexual harassment by multiple women, prompting an internal investigation within the company. Mr. Ailes has denied all of the accusations.
Write to Joe Flint at joe.flint@wsj.com 
© Erik Mcgregor/Pacific Press/ZUMA Press