Jeronimo Yanez identified as cop who shot Philando Castile

New York Daily News
7/8/2016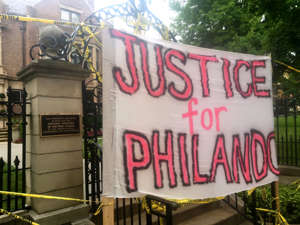 © Jeff Baenen/AP Photo A sign is hung outside the Minnesota Governor's Residence as about 200 people gathered in St. Paul, Thursday, July 7, 2016, protesting the fatal shooting of a man by a suburban police officer. Philando Castile was shot in a car Wednesday night in the largely middle-class St. Paul suburb of Falcon Heights. Police have said the incident began when an officer initiated a traffic stop in suburban Falcon Heights but have not further explained what led to the shooting. (AP Photo/Jeff Baenen) The St. Anthony Police patrolman who shot and killed Philando Castile during a traffic stop has been identified as Jeronimo Yanez.
The Minnesota Department of Public Safety Bureau of Criminal Apprehension (BCA) released a statement Thursday evening. Yanez and another cop, Officer Joseph Kauser, were involved in the Wednesday shooting.
The BCA is conducting an independent investigation into the incident, the aftermath of which was livestreamed on Facebook by his fiancée.
Both cops have been with the St. Anthony Police Department for four years. They are both are on standard administrative leave.
The BCA said that Officer Yanez discharged his weapon, striking Castile multiple times Wednesday night in Falcon Heights following a traffic stop.
According to the agency, Yanez "approached the vehicle from the driver's side and Officer Kauser from the passenger side.
"At one point during the interaction, Officer Yanez discharged his weapon, striking Castile multiple times," the agency said. "No one else was injured. A gun was recovered at the scene."