Kentucky clerk sued for not issuing gay-marriage licenses

Associated Press
7/2/2015
MOREHEAD, Ky. — Four Kentucky couples are suing a clerk who is refusing to issue gay-marriage licenses — or any marriage licenses at all — following the U.S. Supreme Court decision that same-sex couples have a legal right to marry.
Rowan County Clerk Kim Davis told The Associated Press that her Christian beliefs prevented her from complying with the decision, so she decided to issue no more marriage licenses to any couple, gay or straight.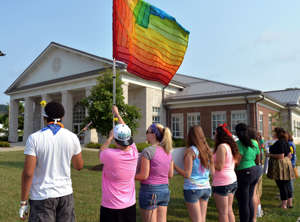 © AP Photo/Timothy D. Easley Protesters waive a rainbow flag on the front lawn of the Rowan County Judicial Center, Tuesday, June 30, 2015, in Morehead, Ky. The protest was being held against Rowan County Clerk Kim Davis, who, due to the ruling of the Supreme Court of the United States and her own religious beliefs, has refused to issue any marriage licenses in the county. The American Civil Liberties Union of Kentucky filed a federal lawsuit against her Thursday afternoon on behalf of four couples: two homosexual and two heterosexual couples who each tried to get licenses from Davis' office this week and were turned away.
Davis is among a handful of judges and clerks across the South who have defied the high court's order.