Kids Learn Lockdown Drill To Tune of 'Twinkle Twinkle'

Newsweek
6/7/2018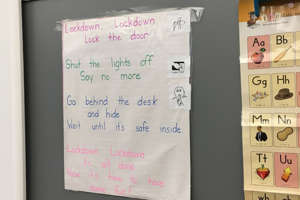 © Georgy Cohen via Twitter Lockdown song lyrics to the tune of 'Twinkle Twinkle Little Star.' Five-year-olds in Massachusetts are being taught active shooter drills to the tune of children's lullaby "twinkle, twinkle little star."
In a haunting twitter post, the mother of a soon-to-be kindergarten student posted a rhyme that had been taped up in their child's classroom telling children to hide and be quiet.
"Lockdown, lockdown lock the door. Turn the lights off say no more. Go behind the desk and hide. Wait until it's safe inside. Lockdown lockdown it's all done, now it's time to have some fun," the rhyme, which parents noted was to the tune of "twinkle, twinkle," read.
This should not be hanging in my soon-to-be-kindergartener's classroom. pic.twitter.com/mWiJVdddpH

— Georgy Cohen (@radiofreegeorgy) June 6, 2018
Commenting on the picture alongside the post, mother Georgy Cohen wrote: "This should not be hanging in my soon-to-be-kindergartener's classroom. "

The post, written on Wednesday, had been shared more than 8,000 times and retweeted almost 20,000 times at the time of writing.
Cohen added that her child had already been practising shooter drills in pre-K, writing: "They already do the drills in pre K. Z was excited about it as a game to see if you can stay quiet for 'one whole minute'."
It is not the first time a parent has shared their concerns that their children are going to school at a time when such precautions are necessary. In the wake of the Parkland school shooting that left 17 people dead, there have been widespread discussions about lockdown drills that have become increasingly common in the wake of school shootings such as Columbine in 1999 and Sandy Hook in 2012.
Concerns have been raised that active shooter drills can leave children traumatized and fearful; balanced with the need to make sure children know what to do in an emergency, The Guardian reported.
Shortly after the Parkland shooting, CNN national security and legal analyst Susan Hennessy tweeted: "Feeling mildly nauseous reading a note from my kid's preschool about implementing active shooter drills."
One Twitter follower responded: "My 4 1/2 year old granddaughter came home from preK, told my daughter they had "bad man practice". When ask what that was, she said "in case a bad man comes to our school we have to help Mrs.M push her desk in front of the door, get in the closet, hold hands & be VERY quiet! "
Feeling mildly nauseous reading a note from my kid's preschool about implementing active shooter drills.

— Susan Hennessey (@Susan_Hennessey) February 15, 2018