Large gas explosion rocks Bremerton motel; 1 reported injury

Seattle Post-Intelligencer
8/19/2015
The blast destroyed one end of the Motel 6 in 3400 block of 11th Street when it suddenly went off at about 8:30 p.m. A gas worker who had responded to a report of a gas leak at the building was critically injured in the explosion.
Officials initially believed all guests had been evacuated from the motel before the blast. But on Wednesday morning they said three guests remained unaccounted for. One was later found nearby, but two remain missing.
Crews now are on scene sifting through the rubble, looking for those two guests. The fire batallion chief on scene says they know their room numbers. Meanwhile, police are tracking down leads on those two people - working to see if they might be somewhere else.
Reports of a gas leak at the motel started coming in just before 8 p.m. Tuesday. Police say everyone at the hotel, including gas crews and hotel workers, were being evacuated at about 8:30 p.m. when the building exploded.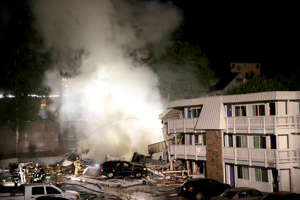 © Larry Steagall/Kitsap Sun via AP Firefighters cool down hot spots after an explosion at a Motel 6, Tuesday, Aug. 18, 2015, in Bremerton, Wash. The explosion occurred just minutes after the acting hotel manager evacuated the building due to reports of a gas leak. Bremerton Police Chief Steve Strachan said one employee of the Cascade Gas Company who was critically injured was airlifted to Harborview Medical Center with second- and third-degree burns.
Several firefighters were on scene investigating the gas leak when the building exploded. Strachan said the firefighters "were blown back 20 feet," though none were seriously injured.
The blast was so powerful that it shook the earth and blew out windows in surrounding homes and buildings.
Bremerton resident Alec Vines, who lives several blocks away from the motel, said he was watching TV with his wife when he heard the loud explosion.
"It was incredibly loud, almost like it was thunder," he said. "The entire house shook."
Hotel manager Tonya Hinds said in a telephone interview that a passerby had come into her office to say a gas line was leaking at the back of the building. Hinds - a former volunteer firefighter - said she went outside and saw that the leaking line was a big one "with a lot of gas."
"I pulled the alarm and started corralling people away from the building," Hinds said. "I wanted to make sure all my guests were out."
One guest from Arizona, Warren Henry, told KOMO News he believes the gas was putting him to sleep in his room.
"And then I heard the alarm started going off and people were banging on doors, and that's kind of what woke me up, so I walked out my door and they said, 'Get out,'" he says. "I was watching it and it blew up. My room, that end of the building, is gone. It just blew up."
Hinds said the motel had about 65 guests in 42 occupied rooms, and the blast destroyed about one-quarter of the building. She said that one guest reported having seen someone jump out a window of the three-story establishment and land on or near the gas line just before the leak.
A woman who lives across the street, Amy Delaney, described how the blast literally blew her off the bed.
"This was like the loudest most powerful explosion I can't even explain the force behind it," she said. "I flew off the bed and landed on my head somehow, and I frickin' jumped up and I had no clue what was going on. It was crazy. It was scary."
The flames from the explosion burned for more than 90 minutes after the blast as crews let the natural gas burn itself off - to avoid another build up.