Migrants flee NYC for Canada after 'drugs,' 'homeless people' make life unbearable: report

FOX News
2/6/2023
Migrants are leaving New York City and heading north into Canada on taxpayer-funded buses, according to a new report from the New York Post. 
The Big Apple is the center of the migrant crisis on the East Coast after thousands of illegal immigrants have flooded the city, with some living in ritzy, taxpayer-funded hotel rooms. 
But not all migrants are pleased with life in the city, telling the New York Post that they would rather accept "free tickets" for a ride up north to Canada and better opportunities in a country with lower rates of homelessness and drug abuse. 
"The military gave me and my family free bus tickets," one Venezuelan migrant told the New York Post. 
NYPD CLEARS OUT GROUP OF MIGRANT 'SINGLE MEN' REFUSING EVICTION FROM RITZY MANHATTAN HOTEL
"I am going to Canada for a better quality of life for my family," one migrant, named Raymond Peña told The New York Post. 
Another migrant said he was "kicked out" of the Row hotel near Times Square, after which he was sent to a homeless shelter in Brooklyn. 
A whistleblower at the Row Hotel released video and photos last month of illegal immigrants trashing the Row hotel and leaving "good" food out to rot. 
"The chaos that we see at the Row today is [caused] by migrants being drunk, drinking all day, smoking marijuana [and] consuming drugs," Felipe Rodriguez said. 
The whistleblower also said that the Row was struggling with "domestic violence" among migrants, young people "having sex in the stairs" and a fight between a migrant and a hotel security officer. 
MIGRANTS ARE 'DRINKING ALL DAY,' 'HAVING SEX IN THE STAIRS' IN TAXPAYER-FUNDED NEW YORK HOTELS: WHISTLEBLOWER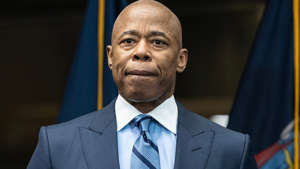 Manuel Rodon, a migrant from Venzuela, told the New York Post that he was concerned about rampant drug use in New York City. 
"A lot of the Americans used drugs there," he said. 
"I feel like Canada will be safer. It is a much quieter country than America," he added. 
NYC MAYOR ERIC ADAMS PLEADS WITH WHITE HOUSE FOR MORE HELP ON MIGRANT CRISIS
New York City Mayor Eric Adams has begged the White House to give aid on the migrant crisis. 
"I'm extremely frustrated," Adams said in December. 
He was referring to the nearly 21,000 migrants who have been bussed to New York since last year. 
But the mayor's press office has simultaneously attempted to present itself as pro-migrant, with Adam's Press Secretary sharing that "asylum seekers are also being provided with free roundtrip tickets on a NYC Ferry every day." 
Mayor Adams' press office did not respond immediately to a request for comment from Fox News Digital. 
Fox News' Matteo Cina contributed to this report.