More protests planned over immigrant family separations

CNN
6/25/2018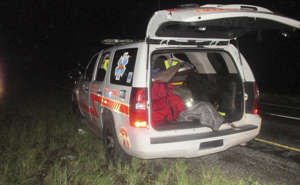 (Slideshow by Photo Services)
Protests over family separations are expected to continue Monday, as questions linger over when and how more than 2,000 separated immigrant children will be reunited with their families.
Over the weekend, crowds gathered in Texas to protest the Trump administration's policy. In the meantime, President Donald Trump doubled down on his message, sending a barrage of tweets Sunday that railed against current immigration laws and called for deportation of people without judicial proceedings to thwart what he referred to as an invasion by "these people."
Amid growing criticisms last week over family separations, Trump reversed course on Wednesday by signing an executive order aimed at keeping some families together at the border.
But it did little to quell the outrage.
© CNN More than 2,000 children who have been separated from their parents await reunions with their parents. The Department of Homeland Security released a plan for putting back together the thousands of families on Saturday night, but it appears the reunions won't happen quickly.
More protests are scheduled Monday with a march in Tornillo, Texas, and a protest outside the Central Processing Center in McAllen, Texas.
On Sunday, celebrities including Lena Dunham, Sia and Amber Heard joined protests in the border city of Tornillo, the site of a US-Mexico border checkpoint and a temporary shelter for unaccompanied migrant minors.
Other cities along the border have also been the site of protests. Chanting protesters in McAllen briefly blocked a bus leaving a migrant detention center as they yelled "set the children free" and "shame on you" at Border Patrol officers on Saturday.
Massachusetts Democratic Sen. Elizabeth Warren visited the center in McAllen on Sunday. "It's a disturbing picture," she said after her visit.
"They're all on concrete floors in cages, there's just no other way to describe it," she said.
After days of confusion, the Trump administration released its plan for reuniting children still in the custody of Health and Human Services over the weekend. Under the plan, children will be kept in custody and returned to family members only after the parents' deportation proceedings are completed. The families will be reunited before they are deported, or if the parent is released from detention, after the parent applies to serve as the child's sponsor.
Parents are being offered the option to sign voluntary departure orders to speed up their cases and are told they'll be reunited with their kids before they are deported if they do -- a move that has been raised questions from lawyers who represent undocumented immigrants.
CNN's Faith Karimi, Eric Levenson, Tal Kopan and Eli Watkins contributed to this report.