New Jersey set to roll out toughest car seat law in nation

Reuters
8/31/2015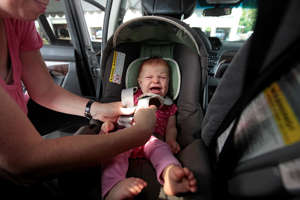 New Jersey is to implement the toughest child-safety restraint law in the United States in an effort to reduce a leading cause of injury and death for children under 14.
The most significant change to New Jersey's law will require children under two years of age and under 30 pounds in weight to sit in a rear-facing five-point harness seat, starting September 1.
"I think this is going to be a change for many families. However if there is an ounce of prevention to save lives this is worthwhile," said New Jersey State Assembly woman Pamela Lampitt, one of the main sponsors of the law, in an interview.
The law also requires children between the ages of two and four-years and under 40 pounds have a five-point safety harness in either forward or rear facing seats depending on height and weight limits set by the manufacturer.
National Highway Transportation Safety Administration (NHTSA) data shows car crashes are a leading cause of death for children between the ages of 1 and 13 years old.
New Jersey's law is the strictest in the nation, according to data compiled by The Governor's Highway Safety Association and the Insurance Institute for Highway Safety.
"Rear-facing is important because it creates a cocoon in both forward and rear-crashes. It spreads out the impact," said Cathleen Lewis, New Jersey director of public and government affairs for AAA Northeast.
The law was signed into effect by New Jersey Governor Chris Christie on May 7. It was first introduced by state Senators James Beach and Diane Allen on May 5, 2014.
The NHTSA is holding a National Seat Check Saturday on Sept. 19 to encourage parents to have their child car seats checked for proper installation.
(Reporting By Daniel Bases; Editing by Andrew Hay)