Obama: Gay marriage decision reaffirms equality of all Americans

Reuters
6/26/2015
"When all Americans are treated as equal, we are all more free," Obama said in the White House Rose Garden.
The Supreme Court earlier on Friday ruled 5-4 in favor of same-sex marriages.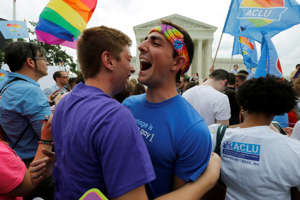 © REUTERS/Jim Bourg Gay rights supporters celebrate after the U.S. Supreme Court ruled that the U.S. Constitution provides same-sex couples the right to marry, outside the Supreme Court building in Washington, June 26, 2015.