Parody Trump Hotel website features immigrant detention centers

The Hill
6/24/2018
Video by CBS News
A parody website for President Trump's hotels replaces images of his properties with detention centers holding undocumented immigrants apprehended at the border.
Trumphotels.org includes images of the detention centers holding both immigrant adults and children, and highlights features like "child accommodations."
And a "Thoughts From Our Manager" section features quotes from Trump on immigration, including infamous comments he made about Mexicans while announcing his president campaign.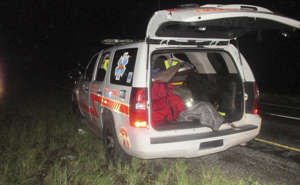 Image Gallery by Photo Services
"When Mexico sends its people, they're not sending their best," Trump said at the time. "They're sending people that have lots of problems and they're bringing those problems. They're bringing drugs, they're bringing crime. They're rapists and some, I assume, are good people, but I speak to border guards and they're telling us what we're getting."
The creator of the parody is not featured on the website.
Images of the detention centers, particularly those housing immigrant children, gained widespread media attention. Sen. Tim Kaine (D-Va.) last week also compared the facilities for immigrant children to Trump's hotels.
Trump has overseen a crackdown on immigration enforcement since taking office, including the implementation of his administration's "zero-tolerance" policy at the border. All people caught illegally entering the country are referred for prosecution under the policy.
The president came under intense scrutiny for his administration's policy separating immigrant parents and children at the border. He signed an order to end the policy last week.
© Provided by The Hill