PG&E outlook ominous if utility is found responsible for California's worst wildfire

Los Angeles Times
11/14/2018
Northern California utility Pacific Gas and Electric said Wednesday that if it is deemed responsible for the fire that destroyed much of Paradise, the liability would exceed its insurance coverage.
The cause of California's most destructive and deadly wildfire has not yet been determined. But PG&E said a transmission line in the area went offline 15 minutes before the fire was first reported, and the company found a damaged transmission tower near where investigators said the fire began.
The fire has killed at least 48 people and destroyed more than 7,000 homes.
In a corporate filing Wednesday, PG&E said that if its equipment caused the fire, it "would be expected to have a material impact on PG&E Corporation's and the Utility's financial condition, results of operations, liquidity, and cash flows."
Since the fire began last Thursday, PG&E stock has lost half its value.
wildfire donation widget
Some who lost homes in Paradise have already sued PG&E, accusing the utility of negligence and blaming it for the fire.
The financial costs of the fire are expected to be staggering.
After destructive fires swept through wine country last year, PG&E faced similar liability questions. Wall Street estimates that the utility faces up to $15 billion in liabilities from those fires, which also burned thousands of homes. It has raised the possibility of bankruptcy if it cannot get some relief.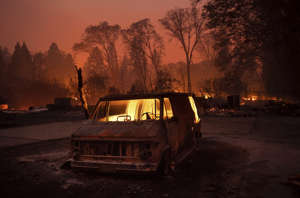 Slideshow by photo services
Investigators already have linked PG&E lines to some October fires, including the Atlas fire that killed six people and destroyed 400 homes, and the Redwood Valley fire that killed nine and destroyed 500 structures. Officials continue to investigate the cause of the largest of the wine country fires, the Tubbs fire, which swept into Santa Rosa.
Visit the Los Angeles Times at www.latimes.com