SeaWorld shakeup: Park leaders out
USA TODAY
2/19/2016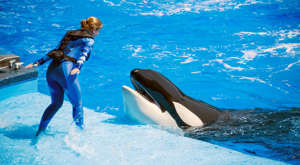 © Sea World/AP Photo A Trainer with an Orca at Sea World in Orlando, Florida, April 28, 2014. Embattled amusement-park operator SeaWorld Entertainment on Friday announced a sweeping shakeup in its executive team.

The moves include the departures of the company's chief parks operations officer, chief zoological officer and San Antonio park director.
The shakeup comes as SeaWorld is trying to overhaul its business and boost attendance in the wake of a 2013 documentary that raised questions about the company's treatment of orcas and their interactions with trainers at the company's parks.
It also comes after reports of four animal deaths at its San Antonio park since last summer, including a 12-year-old dolphin that died two weeks ago.
It was not immediately clear whether the changes were tied to either of those factors. A spokesman for the publicly traded Orlando, Fla.-based company (SEAS) did not immediately return a request seeking comment Friday morning.
The changes include:
—Chief Parks Operations Daniel Brown is retiring. San Diego park President John Reilly will ascend to that position. Marilyn Hannes, who was serving as vice president of global sales, will become president of the San Diego park.
—Chief Zoological Officer Brad Andrews will become zoological director emeritus. The company's vice president of veterinary services, Chris Dold, will become chief zoological officer.
—San Antonio park President Dan Becker is leaving the company and will be succeeded by Carl Lum, who was serving as the company's Busch Gardens Williamsburg and Water Country USA park president.
"These leaders bring to their new roles an extraordinary depth of knowledge and talent and the right expertise to deliver on our strategic priorities," SeaWorld CEO Joel Manby said in a statement.
The moves also come after SeaWorld last fall announced it would end killer-whale shows at its San Diego property following public scrutiny and regulatory pressure.
The California Coastal Commission has refused to give the company permission to breed killer whales, a decision that would have threatened its theatrical shows.
Per-capita admissions revenue fell by 2.1% through the first nine months of 2015 to $37.64 as the company continued to discount tickets to boost attendance.
SeaWorld Entertainment operates 11 parks in five states, including Busch Gardens and SeaWorld. The company's revenue through the first nine months of 2015 fell 1% to $1.1 billion, while net income fell 20% to $60.2 million.
Follow USA TODAY reporter Nathan Bomey on Twitter @NathanBomey.