State Police sergeant delivers baby girl on side of Parkway

Associated Press
12/14/2015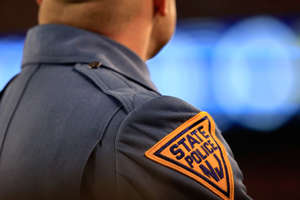 © Jamie Squire/Getty Images File photo of a New Jersey State Police trooper. MIDDLETOWN, N.J. — An alert New Jersey State Police sergeant saved the day for a couple on the way to the hospital to have a baby.
Sgt. Sean Boag was driving home Friday on the Garden State Parkway when he heard on his radio that a woman was going into labor on the side of the highway near Middletown.
Boag arrived in a few minutes and helped deliver a baby girl.
The baby was crowning when he got there, Boag told reporters Saturday. She was delivered four minutes after he arrived, according to state police.
"I told her to push," Boag said. "A couple more pushes, we were able to pull the baby all the way out and once I cleaned her mouth, I got the mother and wrapped her up in a blanket and placed (the baby) on the mother's chest and that was it. We waited for first aid to arrive."
The couple from Lakewood was driving to a hospital in New Brunswick when they realized they weren't going to make it in time. Their names haven't been released.
Boag told The Asbury Park Press (http://on.app.com/1QdAt2y) that he'd never done a delivery before, but that state police are well-trained for many emergency situations.
___
Information from: Asbury Park (N.J.) Press, http://www.app.com