Thousand Oaks shooting victims: Portraits of the fallen

Los Angeles Times
11/8/2018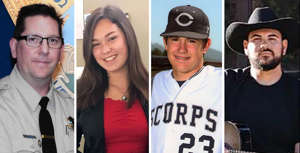 A shooter opened fire in a crowded Thousand Oaks bar late Wednesday night, killing at least 12 other people. Here are the stories of the people who lost their lives. This page will be updated as more information is released.
Cody Coffman, 22
Cody Coffman was his dad's fishing buddy and a beloved athlete and older brother, said his father, Jason Coffman. He was looking forward to welcoming a sister into the world soon.
The 22-year-old was killed inside the Borderline Bar & Grill on Wednesday night, his father confirmed Thursday morning.
Coffman said his son will leave behind a legacy of love and laughter. Coffman said he began coaching his son in baseball when he was 3, and the two went fishing together.
"That poor boy would come with me whether he liked it or not," he said. "That's the kind of stuff that I'm truly going to miss."
Cody loved his baseball team and wanted to join the military, his father said: "He was on his way to fulfilling his dream. He just turned 22 and was talking to recruiters to become part of the Army."
The last thing Jason Coffman told Cody was, "I love you, son."
He said he didn't know how he would give his other sons, who are 6 and 8, the news, but that it would probably be in a church, with his pastor.
-Alejandra Reyes-Velarde and Melissa Etehad
Ron Helus, 54
In 29 years with the Ventura County Sheriff's Office, Sgt. Ron Helus served many roles. He worked narcotics, served on the SWAT team and was a beloved instructor. He was the guy who made work a good place to be, his colleagues said.
Helus was one of the first to arrive at the scene of the shooting at the Borderline Bar & Grill. He was shot multiple times as he entered the bar.
Ventura County Sheriff's Sgt Julie Novak worked with Helus for 24 years. She described him as mentor who was "feisty, stubborn, awesome, funny and a warrior." He was the kind of officer she aspired to be, she said.
Just a year or so away from retiring, Helus was a rock in the department, his colleagues said.
"Ron Helus is the guy you want protecting your neighborhood at 2 in the morning," said Ventura County Sheriff's Deputy Chris Dyer, who said Helus was his academy instructor. "He is in your corner all the time. He makes it amazing to come to work."
"He was an unbelievable man," sheriff's Capt. Garo Kuredjian said. "He was a lifetime learner, a trainer, a mentor, a leader. He was a cop's cop. His void is going to be felt throughout our agency."
Helus is survived by his wife and son.
-Brittny Mejia and Benjamin Oreskes
Alaina Housley, 18
Alaina Housley was a bubbly freshman at Pepperdine University with dreams of becoming a singer.
"Alaina was an incredible young woman with so much life ahead of her and we are devastated that her life was cut short in this manner," her aunt and uncle, former Fox correspondent Adam Housley and TV personality Tamera Mowry-Housley, said in a statement.
Alaina was dancing with her suitemates Wednesday night when they heard the shots fired. Her friends jumped through a broken window to escape, but they lost her in the chaos behind them.
Her Apple Watch and iPhone still showed her location on the dance floor as Adam Housley searched hospitals for Alaina. Mowry-Housley began her search in the early morning hours, when a friend posted photos of Alaina, asking for the public to help find her.
Luke Sides, 19, a friend of Alaina's at Pepperdine, said he met her last spring at the Malibu Reception, a day when incoming freshmen are invited to get to know the campus. She had just been dropped off by her parents and was sitting alone when Sides introduced himself. She seemed relieved to make a new friend, he said. She soon had made many.
"She was just a really sweet girl," Sides said. "Whenever I had any problems, she would always reach out and helped me."
Alaina was an English student in the top 10% of her class, he said. She had aspirations to attend law school, but music was a passion. Sides said he last spoke to her on Wednesday, when they talked about taking a musical theater class together. She joked that she didn't know how to dance but they'd be good at it, he said.
-Alejandra Reyes-Velarde and Andrea Castillo
Justin Meek, 23
Justin Meek was a Borderline bouncer and promoter known as a welcoming friend. He was shot trying to save others in the bar. The 23-year-old was a recent graduate who got his bachelor's degree in criminal justice from California Lutheran University in May.
"Meek heroically saved lives in the incident," the university said in a statement.
"The Cal Lutheran community is filled with sorrow over the violent events that took place last night a few miles from campus in Thousand Oaks," the university statement said. "Sadly, we have learned from the family that a recent graduate, Justin Meek, 23, is one of the precious lives cut short in this tragedy."
He was the type of guy who immediately introduced himself to make newcomers feel welcome, said his friend Leah Marty. Meek was part of the campus' Catholic Club and also a natural connector, Marty said. He loved planning group outings for friends and had a knack for cracking a joke to ease tension, especially when everyone was stressed before tests.
Meek once encouraged her to join a line-dancing club on campus.
"I can't dance," she recalled telling him.
"Me neither!" he responded.
She smiled sadly at the memory.
-- Andrea Castillo, Marisa Gerber and Sonali Kohli
UPDATES:

2 p.m: This article was updated to include additional details about Alaina Housley and Justin Meek.
12:50 p.m. This article was updated to include two more victims, Alaina Housley and Justin Meek.
1:50 p.m.: This article was updated to provide more information about the Helus, Housley and Meek.
This article was originally published at 11:30 a.m.