Trump administration says it may not meet deadline to reunite separated families
USA TODAY
7/6/2018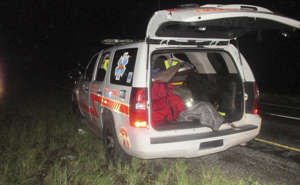 Gallery by photo services
The Trump administration argued in a series of court filings late Thursday that it may not be able to fully comply with a federal judge's order to reunite nearly 3,000 children separated from their parents by the end of the month.

The administration must reunite all children under age 5 by Tuesday, and all other minors by July 26. But government lawyers and an Immigration and Customs Enforcement director who has been overseeing the reunifaction process said there is too much work to do and too many questions about the judge's order to meet his strict deadlines.
"Defendants have dedicated immense resources and effort to reunifying families, and personnel at the highest levels of the agencies have been involved in implementing the Court's directives," according to a filing by the Department of Justice. "To fully implement these plans, however, Defendants may need clarification on or relief from ... the Court's deadlines."
The requests were filed on the same day that Health and Human Services Secretary Alex Azar held a conference call where he assured reporters that the administration would reunite all the children that had been separated. Azar criticized the ruling, but vowed to meet the court-imposed deadlines.
"We will comply with the artificial deadlines established by the courts," he said.
District Judge Dana Sabraw, the judge who issued the order to reunite all the separated families, will hold a court hearing Friday afternoon to address the requests for clarification from the government, and concerns raised by immigration advocacy groups over the entire process.
Lee Gelernt, an ACLU lawyer who led the lawsuit, has said that the federal government is capable of marshaling its resources when it wants to get something done, and reuniting separated families should be no exception.
In the court filings, the government argued that it has been working nonstop to comply with Sabraw's order and provided explanations from Health and Human Services and Immigration and Customs Enforcement to lay out what they've done.
Jonathan White, of the Office of the Assistant Secretary for Preparedness and Response at HHS, wrote that the agency has deployed nearly 300 personnel to serve as case managers and coordinators to speed up the reunification process.
Robert Guadian, acting deputy assistant director for ICE's Enforcement and Removal Operations, wrote that his agency has reassigned agents from other assignments, including fugitive operations, to the work of reunifying families. He said 19 of the agency's 26 field offices have been involved.
The two outlined a comprehensive, case-by-case analysis of all minors in custody due to immigration violations to determine if they fall under Sabraw's order. And, as Guadian explained, the first hurdle was the biggest.
Before Sabraw's order, the government did not have a list of children who had been separated from their parents before Trump's "zero tolerance" policy went into effect -- or after. Guadian wrote that information was simply "not maintained as part of ICE's regular business practice," Guadian wrote.
That forced HHS to conduct a case-by-case review of all 11,800 minors in its custody to see which files included a mention of a family separation. Then, ICE followed up to determine exactly when and how the family was separated.
And then they had to sync those files up by hand because, as White explained, "DHS has different information systems, and those systems were not designed to neatly capture and readily share all of the data."
Further complicating the reunification process was the realization that all children's parents were not still in government custody. Some have been deported, and some have been released into the US on parole as they await hearings.
For example, HHS identified 101 children under age 5 who may need to be reunited with their parents under the judge's order. The federal agencies determined that 40 of their parents remain in Homeland Security custody, another nine are being held in federal prisons administered by the Bureau of Prisons, but have not identified the remaining 52 parents.
"Some of the identified minors may have been separated prior to crossing the border, or there may be other factors that need to be explored that would not make their parents members of the class," White wrote.
A federal complaint filed Friday claims the government has made made matters worse by misplacing and, in some cases, destroying records of children separated from their parents.
Citizens for Responsibility and Ethics in Washington filed a complaint with the National Archives and Records Administration requesting an investigation into reports that officials at Homeland Security and Health and Human Services have purposefully destroyed records that showed parents were separated from their children. If there is no proof that a family was separated, the government would not be required to reunite them under the judge's order.
Citing a New York Times report, the advocacy group urged the government's official archivist to determine whether immigration agents willfully destroyed the records in an attempt to keep families separated.
"Rarely, if ever, has a potential violation of the (Federal Records Act) had such grave implications," read the complaint. "The reportedly destroyed records bear directly on the lives of thousands of immigrants seeking entry to our country, threatening the permanent separation of parents from their children."