Trump's Interior chief faces ethics investigation just days after being confirmed

Washington Examiner
6 days ago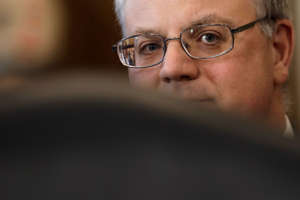 © Thomson Reuters Former energy lobbyist David Bernhardt waits to testify before a Senate Energy and Natural Resources Committee hearing on his nomination of to be Interior secretary, on Capitol Hill in Washington, U.S., March 28, 2019. REUTERS/Yuri Gripas The Interior Department's inspector general on Monday opened an investigation into ethics claims surrounding David Bernhardt, Trump's newly appointed interior secretary.
The Interior Department confirmed to the Washington Examiner that the probe was initiated on Monday at the request of Democrats, just days after he was confirmed by the Senate.
Democratic Sens. Ron Wyden of Oregon and Tom Udall of New Mexico had requested the inspector general's investigation into whether Bernhardt violated lobbying laws while serving in his previous capacity as deputy interior secretary.
"Secretary Bernhardt is hopeful the Inspector General will expeditiously complete a review of the facts associated with the questions raised by Democratic Members of Congress and DC political organizations," said interior spokeswoman Faith Vander Voort, rebutting accusations that Bernhardt had violated any rules or laws.
She noted that the agency's ethics office had already conducted its review, determining that Bernhardt is in "complete compliance" with his ethics agreement and all applicable laws, rules, and regulations.