U.S. hero of French train attack stabbed in Calif.
USA TODAY
10/8/2015
"A1C Spencer Stone has been transported to a local hospital, and is currently being treated for injury," Air Force spokesman Lt. Col. Christopher Karns said in an email in Air Force Times.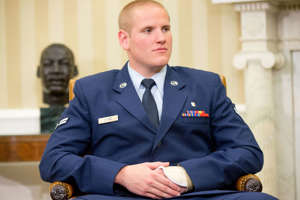 © Andrew Harnik/AP Photo Air Force Airman 1st Class Spencer Stone at his meeting with Pres. Obama in the Oval Office of the White House in Washington, Thursday, Sept. 17, 2015. Sacramento police, without naming the victim, said on Twitter: "The assault incident is not related to a terrorist act. Assault occurred near a bar, alcohol is believed to be a factor. "
ABC10 in Sacramento reports that Stone was the victim in an assault near 21st and K streets in downtown Sacramento around 12:45 a.m. and that police were looking for a suspect.
The Sacramento police department said on Facebook that the victim was stabbed repeatedly in his upper body.
© Provided by USA Today "It is believed that the victim was out with a group of friends when a physical altercation led to the victim being stabbed multiple times in his upper body," the statement said. "Detectives were called to the scene to assist with the investigation and the victim is currently being treated for what appears to be non-life threatening injuries."
Everybody send prayers out to the stone family today

— alek skarlatos (@alekskarlatos) October 8, 2015
Ayoub El-Khazzani, 25, was arrested in the incident on the French train. French authorities identified him as a Moroccan with ties to radical Islam who may have traveled to Syria.
The three Americans, hailed as heroes, said they acted out of instinct and were ready to fight to the death to stop the attack.
Stone, longtime friends Skarlatos, 22, an Oregon National Guardsman, and Anthony Sadler, 23, a student at Sacramento State University, were on the high-speed train from Amsterdam to Paris when El-Khazzani — armed with a Kalashnikov, an automatic Luger pistol and a box cutter — raced through the car. The men tackled and subdued the gunman, who was taken into custody in France.
"We just kind of acted, there wasn't much thinking going on," Stone said at a news conference in Paris days after the attack. He said he acted out of "survival — and for my friends and everybody else on the train."
Stone said he was stabbed in the neck and thumb, which had to be reattached. "He seemed like he was ready to fight to the end," Stone said of El-Khazzani. "So were we."
Stone earned a Purple Heart and Airman's Medal in a Pentagon ceremony, Skarlatos is receiving the Soldier's medal, and Sadler was issued a civilian award.
President Obama hosted the three men at the White House last month, saying they represented "the very best of America and the American character."
"They were thinking they were just going to have a fun reunion in Paris and ended up engaging in a potentially cataclysmic situation," Obama said. "Because of their courage, because of their quick thinking, because of their teamwork, it's fair to say a lot of people were saved, and a real calamity was averted."
Skarlatos may have averted tragedy himself in recent days. He is participating in the TV show "Dancing With The Stars" and other activities that he said kept him from enrolling at Umpqua Community College in Roseburg, Ore., this fall. Last week 10 people died at the school in a shooting rampage.
"I would have been there today," he said on the "The Ellen DeGeneres Show." "I had classes picked out and everything."