U.S. seeks to reunite more young immigrants as new deadline looms

Reuters
7/12/2018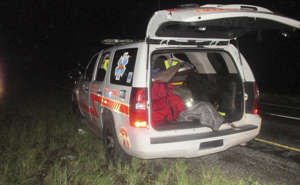 Slideshow by photo services
UPDATE:  All migrant children under age 5 who are eligible will be reunified with their parents by early on Thursday morning, a Trump administration official said on Wednesday.
A federal judge had ordered the government to reunite by Tuesday children under 5 who had been separated from their parents at the U.S.-Mexico border.
(Corrects to official speaking on Wednesday.)
(Reporting by Yeganeh Torbati; writing by Eric Beech; editing by Eric Walsh)
EARLIER STORY: A day after dozens of parents were reunited with children who had been separated at the U.S.-Mexico border by immigration officials, the U.S. government faces a looming deadline to match another roughly 2,000 children with parents.
The struggle to track and match parents with children under five suggests meeting a July 26 deadline for reuniting the remaining older children could be fraught with problems.
"That is going to be a significant undertaking," U.S. Judge Dana Sabraw said on Tuesday of the next deadline.
Sabraw ordered the government to reunite by Tuesday about 60 of the youngest children who were separated as part of the Trump administration's "zero tolerance" policy on illegal immigration.
The American Civil Liberties Union, which brought the lawsuit that led to Sabraw's court order, said on Wednesday it did now know if the government had met the deadline for the youngest children.
"Trying to find out," said Lee Gelernt, an ACLU attorney, wrote in an email.
The Department of Health and Human Services referred to figures released on Tuesday, when the Trump administration said four children were reunited and at least 34 more would be by the end of the day, about half of the total in that group.
U.S. President Donald Trump took to Twitter on Wednesday to blame the Democratic Party, among others, for not fixing immigration. "Judges run the system and illegals and traffickers know how it works. They are just using children!" he said.
One immigration advocate told Reuters she was still awaiting details on when two under-five children would be back with their parents. One parent was from Honduras and the other from El Salvador.
"Our clients still have not been reunified!" said Beth Krause, an attorney with Legal Aid Society's Immigrant Youth Project, in an email to Reuters. She said the government said one would be reunited sometime Wednesday.
If the children under five are not back with their parents by Thursday, Sabraw has asked the ACLU to suggest penalties he could levy against the government. [nL1N1U60SH]
Also on Thursday, the government will update Sabraw on the number of children that still must be reunited with and whether the government expects to meet the July 26 deadline.
The government has said around 2,300 children were separated from their parents at the border as part of the government's policy, which was abandoned in June after intense protests.
The government has said the delays stem from the time it takes to run background checks, confirm parentage and locate parents released from detention.
The ACLU's Gelernt said during a court hearing on Friday that it was "startling" that the government cannot find some parents.
"When they release the parent they just don't walk out the door with no record," Gelernt said.
Rights advocates have blamed the U.S. government's poor technology for difficulties tracking children across multiple government agencies involved in their detention and care. 
Gelernt told the judge in recent hearings he was concerned that some parents may have opted to leave the United States, believing that was the only way they could be reunited with their children.
Sabraw approved on Tuesday the ACLU's suggested legal notice that will be provided to immigrant parents, which explains they have a right to be reunited and remain in the country to pursue asylum.
(Reporting by Tom Hals in Wilmington, Delaware; additional reporting by Jonathan Allen and Yeganeh Torbati in New York; Editing by Noeleen Walder and Lisa Shumaker)