Sheriff calls for National Guard response after Milwaukee police shooting

USA TODAY
8/14/2016
MILWAUKEE — As a sense of calm returned to Milwaukee's Sherman Park neighborhood Sunday morning after a night of rioting and gunfire, Milwaukee County Sheriff David A. Clarke Jr. called for the National Guard to respond to the area. 

"We cannot allow for a repeat of what happened last night. I am going to utilize all available resources to accomplish that," said Clarke, whose department patrols county parks, in a news release. He also said he would be involved in "ongoing discussions" with city officials about the situation. Clarke said he had consulted with Gov. Scott Walker and Major Gen. Donald Dunbar.
Click for live coverage of the Milwaukee police shooting from BreakingNews.com
Clarke's comments are in stark contrast to Milwaukee police and city leaders who said overnight Saturday they had the resources to handle the situation, including help from the Milwaukee County Sheriff's Office and Waukesha County agencies and did not anticipate calling upon the National Guard.

The unrest overnight came after a fatal police shooting. Milwaukee police say an officer shot and killed an armed man who was fleeing a traffic stop about 3:30 p.m. Saturday. The officer ordered the man to drop his gun and when the man did not, the officer fired, wounding the man twice, once in the chest and once in the arm, Mayor Tom Barrett said.
Milwaukee Police Assistant Chief James Harpole said at least 200 people had gathered at the uprising Saturday. He said there were multiple gunshots over the course of the evening.
After an hours-long confrontation with officers, police reported at 10:15 p.m. that a gas station was set on fire. Police said firefighters could not for a time get close to the blaze because of gunshots. Later, fires were started at businesses — including a BMO Harris Bank branch, a beauty supply company and O'Reilly Auto Parts stores, according to city officials.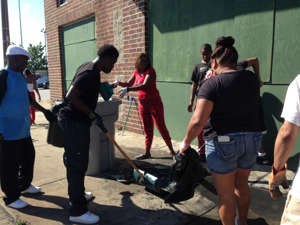 A cry for help
On Sunday morning, dozens of people gathered in Sherman Park and formed a prayer circle. After a prayer, people fanned out to help clean up the neighborhood streets. The effort was led by the Coalition for Justice, a grass-roots organization that formed after the 2014 police shooting of Dontre Hamilton.
"Yesterday was a cry out for respect," said Nate Hamilton, brother of Dontre Hamilton who was shot and killed by a Milwaukee police officer.
"When you're hurting you hurt back," he said.
A group of clergy also joined the efforts Sunday morning.
"This may look like a graveyard, but dozens of faith & community leaders are out cleaning up. This is our Milwaukee!" Pastor Alexis Twito said on Twitter. Twito is the head coordinator for the Salvation Army's chaplaincy program that responds to traumatic events across the city.
Common Council President Ashanti Hamilton said organizations that work in the Sherman Park neighborhood have begun outreach in the community, and that city officials, including the mayor, police and community leaders, are scheduled to meet at noon today.
"What we want is to make sure now that this does not spread to other parts of the city," Hamilton said Sunday morning. "And we'll be sharing information with the community so they are aware of what's going on and understand that things will be moving forward."
Alderman Khalif Rainey, who represents the neighborhood where the incident occurred, had suggested that failure to deal with the frustrations of Milwaukee's black residents — poverty, jobless, lack of opportunity — could lead to unrest elsewhere in the city, including downtown where hundreds of millions of dollars are being invested in redevelopment.
"We need to continue to address the issues that people are frustrated by," Hamilton said. "People want to feel like they're getting a fair shake."
Others, interviewed in person at the park, also pointed to gun violence roiling the city. Five men were killed in three separate shootings that occurred Friday evening and into early Saturday.
"We cannot blame the police for what is happening," said the Rev. Jeffery Hawkins of Westside Missionary Baptist Church.
"I can understand we get upset when police kill one of ours but who is getting upset when we kill ourselves? That's where our anger should be."
Frustration mounts
A group of about 30 people gathered at the O'Reilly Auto Parts store Sunday morning to help clean up after the store was set on fire overnight. The only things left standing were the outer walls and a sign showing significant burn marks.
Jimmie Butler, the store's commercial manager, woke up to a call Sunday morning from a friend who told him the store was burned down.
"It's sad. Despite what's going on, O'Reilly didn't do anything" to warrant the destruction, Butler said.
He said he's not sure if the store will be rebuilt.
Bernard King was going from store to store with his son and a few other boys from the neighborhood to help clean up locations that were burned down Saturday night.
King and other people that were cleaning up damage at O'Reilly expressed frustration over a lack of job opportunities for youths in the area.
"We need to bring livable wage jobs into the community," King said. "Then people would feel good about working and they don't have time to get into mischief and criminal activity. What's the point of having a high school diploma when there's nothing for kids to do after?"
Louise Kidd lives near the auto parts store and decided not to go to church Sunday morning so she could help with the damage control.
"If we don't get at the table and talk about youth needs for education and training, this is only going to be the beginning," Kidd said. "We gotta do better. For the whole city to succeed, this community needs to succeed too."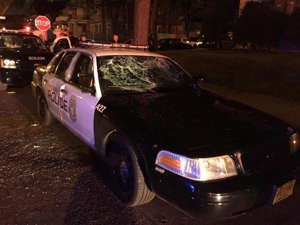 A footchase, then gun shots
City police officials said two officers stopped two suspects in a car Saturday at about 3:30 p.m. The suspects then took off on foot. During the pursuit, a six-year veteran of the department shot and killed a 23-year-old Milwaukee resident, who was carrying a semiautomatic handgun, police said.
The officer was not hurt.
Shortly after the shooting, Milwaukee Police Assistant Chief Bill Jessup said at the scene that it wasn't immediately clear whether the suspect pointed the gun or shot at the officer.
"Those additional facts will come out in the coming days," Jessup said.
City police officials have not interviewed the officer, Jessup said. That responsibility will fall to the Wisconsin Department of Criminal Investigation, which is required by state law to take over officer-involved shooting investigations.
"That officer had to make a split-second decision when the person confronted him with a handgun," Jessup said. "This is a risk they take every day on behalf of our community."
Police said the suspect had a "lengthy arrest record," though the specific crimes were not detailed. The suspect was carrying a handgun taken in a March burglary in Waukesha. The owner reported that 500 rounds of ammunition also were stolen.
The officer is 24 and will be placed on administrative duty during the investigation and subsequent review by the district attorney's office.
The second suspect who fled on foot, also a 23-year-old man, was apprehended and is in custody, Jessup said.
Police shooting tops off violent weekend
The shooting occurred about one block northwest of the scene of a Friday evening homicide, and about four blocks west of a Saturday morning double homicide. Five people died in shooting-related homicides during a nine-hour stretch in the city on Friday night and Saturday morning.
"As everyone knows, this was a very, very violent 24 hours in the city of Milwaukee," Jessup said. "Our officers are out here taking risks on behalf of the community and making split-second decisions."
Nefataria Gordon said she knew the man who had been killed by the officer. "He was a nice good person. He was really respected. That's why everyone came out. They're angry."
The clash comes after a series of tense episodes in Milwaukee involving residents and police, including one just before the Fourth of July weekend near Sherman Park.
In early July, a group of several dozen young people threw rocks and bottles, damaging windows of a gas station and a county transit bus near Sherman Park. Law enforcement beefed up their presence for several days there. Some activists said it was an intimidating presence. At the same time, the incidents also led to a surge in residents and local leaders promoting positive activity there.
Contributing: Aaron Mak and Jacob Carpenter