Violent protests force cancellation of speech by Breitbart's Milo Yiannopoulos at UC Berkeley

Los Angeles Times
2/2/2017
A speech by conservative firebrand and British writer Milo Yiannopoulos was canceled at UC Berkeley on Wednesday amid violent protests that sparked a fire in a campus plaza.

University officials called off the event about two hours before Yiannopoulos was to speak at the student union, where more than 1,500 people had gathered outside. Some hurled metal barricades and others smashed windows at the student union.
"This is not a proud night for this campus, the home of the free speech movement," said Dan Mogulof, a Berkeley spokesman. He noted that the vandalism interfered with the ability of the Berkeley College Republicans — who hosted Yiannopoulos — to exercise their 1st Amendment rights.
Yiannopoulos, 32, writes for Breitbart News — a popular website among the far right — and he is an avowed supporter of President Trump. He's also a flamboyant provocateur who has been denounced for propagating racism, misogyny and anti-Islam views, but he styles himself a champion of free speech.
This summer, he gained notoriety for encouraging a barrage of harassment against "Ghostbusters" actress Leslie Jones, which prompted Twitter to ban him from the social media platform.
Controversy, unrest and, occasionally, violence has followed his speaking tour at colleges across the U.S., for which Berkeley was to be the final event. Last month, a man was shot outside a University of Washington hall where Yiannopoulos was scheduled to speak.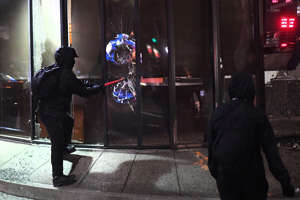 Berkeley Protest

Wednesday's decision by Berkeley officials is the second time in two weeks that rowdy protests have forced the cancellation of one of his lectures. UC Davis also canceled one of his speeches last month.
At Berkeley, police clashed with protesters, and much of the university was placed on lockdown. Campus police repeatedly ordered protesters to leave the area, threatening the crowd with arrest. Most refused to leave.
At one point, some toppled a generator that was powering a flood light, and the machinery caught fire in the plaza outside the student union. The flames made for dramatic images, and TV helicopters captured the on-campus blaze.
On his Facebook page, Yiannopoulos said that "violent left-wing protesters" had broken into a building's ground floor, ripped down barricades and thrown rocks.
"My team and I are safe," Yiannopoulous said.
Masked protestors just shot off fireworks and are tearing down fences at Berkeley. Milo inside. pic.twitter.com/3SRNLjuTVn

— Michael Bodley (@michael_bodley) February 2, 2017