'We have been drawn into this terror': At vigils, Thousand Oaks grieves 12 victims of mass shooting

Los Angeles Times
11/9/2018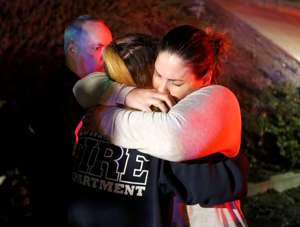 Slideshow by Photo Services
The wind that roared through Thousand Oaks on Thursday night threatened to drown out their voices, but the mourners still sang, channeling their grief, shock and anger into a familiar melody.
More than 100 people fell silent as the strains of "Amazing Grace" wafted through the crowd and the light-wrapped trees on the lawn outside the Thousand Oaks Civic Arts Plaza.
The song, rising from a prayer circle, marked the start of the first night of vigils and memorials in Thousand Oaks, 20 hours after a gunman fatally shot 12 people at the Borderline bar before dying of a gunshot wound himself.
Despite a fast-moving brush fire that forced evacuations from hundreds of homes, mourners packed three memorial events in Ventura County: a rosary at California Lutheran University, a memorial at Moorpark College and a vigil in a theater in the Thousand Oaks Civic Center.
The 1,800-seat performing arts theater quickly reached capacity. Dozens more pressed their faces against the glass doors and watched a television feed of the vigil inside, where mourners held faux candles with battery-powered flames.
When several cellphones buzzed in unison, many in the crowd sighed, knowing it was a warning about the ominous orange smoke rising in the sky outside.
The last 24 hours, they said, had felt like an apocalypse.
At a chapel at Cal Lutheran, a service for students and community members was standing-room-only. Sounds of sniffling and crying reverberated as university pastor Scott Maxwell-Doherty tried to explain to students how they could find meaning in the midst of tragedy.
"What has happened should have never happened, and we have been drawn into this terror," he said. "The endless stream of questions will bubble up in our souls, as they have begun in mine. Is this real? How can this be? How will I work my way through this event to make sense of it?"
There will be very few answers to those questions, he said. But God would not leave them alone.
Students lingered in the chapel foyer afterward, hugging one another and sipping coffee in small groups. Student government leaders Amanda Souza, 22, and Hannah Nandor, 19, said their faith and the strength of the school community got them through the day.
They both knew Justin Meek, who died in the shooting. Souza was in choir with him, and said many people looked to the bass-section leader for guidance. He always had a huge smile on his face and handed out high-fives as if it was his job, Souza said.
"I believe in a God who has a plan, even though this is horrendous," said Nandor, a student senator. "We want to push forward, help students who are living in fear now."
© Kent Nishimura / Los Angeles Times At Moorpark College, about 150 students, faculty and staff formed a cramped circle inside the campus administration building. The vigil was planned to be held around the flagpole, lowered to half-staff, but harsh winds pushed the gathering indoors.
In Thousand Oaks, two friends stood shoulder-to-shoulder in matching gray sweaters that read "Route 91 Survivor" — reminders of the massacre in Las Vegas that they had survived a year and a month ago.
Ingrid Martinez, 35, and Alyssa Chandler, 29, came from the San Fernando Valley to the vigil hoping to talk to people who survived Wednesday's shooting. The friends hoped survivors would be drawn to their sweaters.
The Borderline raised money for the music festival victims last year, Chandler said. "They had our backs," she said. "Now it's our turn."
They would warn them about the things that will take them back to those horrible moments — the sound of jackhammers at a construction site, or the sight of a group of people running.
They would tell them to forget about timelines on grief and to cling to fellow survivors. They're the people who will realize how frustrating and impossible it is to constantly get asked the same question: "So, how are you?"
"They'll understand you better than your family," Chandler said.
Inside the theater, Thousand Oaks Mayor Andy Fox closed out the vigil by citing an African proverb: "However long the night, the dawn will break."
A woman walked to the microphone and began to sing "Amazing Grace." As the crowd sang softly, a woman's deep wail rose from the audience and filled the theater, sheltered from the wind.
Times staff writer Laura J. Nelson contributed to this report.