Agency: North Korea plans satellite launch this month

Associated Press
2/2/2016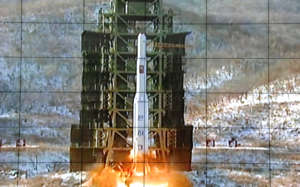 © AP Photo/File FILE - In this Dec. 12, 2012 file photo, a screen at the General Satellite Control and Command Center shows the moment North Korea's Unha-3 rocket is launched in Pyongyang, North Korea. North Korea said Monday, Sept. 14, 2015 it is ready to launch satellites aboard long-range rockets to mark a key national anniversary next month, a move expected to rekindle animosities with its rivals South Korea and the United States. North Korea has spent decades trying to perfect a multistage, long-range rocket. After several failures, it put its first satellite into space with a long-range rocket launched in late 2012. SEOUL, South Korea — North Korea has declared plans to launch an Earth observation satellite on a rocket later this month, an official with a London-based agency said Tuesday. This would cause international outrage because such tests are seen by the United Nations and other critics as covers for banned long-range missile tests meant to further North Korea's nuclear bomb and missile programs.
An official at the International Maritime Organization said North Korea declared that an Earth observation satellite launch would be conducted between Feb. 8 and 25, between 7 a.m. and noon Pyongyang time. The official spoke on condition of anonymity because she hadn't been authorized to speak publicly yet.
The declaration follows North Korea's claim last month to have tested a hydrogen bomb, the country's fourth nuclear test.
Japan's Kyodo News agency reported that North Korea also notified the Geneva-based International Telecommunication Union "via diplomatic channels" that it will launch a Kwangmyongsong (Bright Star) -type satellite with a four-year operational life later this month.
North Korea's last long-range rocket launch, in December 2012, was seen as having successfully put the country's first satellite into orbit after a string of failures. Each new rocket launch improves North Korea's missile technology, which is crucial for its goal of developing a nuclear-armed missile capable of hitting the U.S. mainland.
North Korea is estimated to have a handful of crude nuclear devices but there is debate about whether it can miniaturize a warhead or construct a complicated missile capable of accurately hitting distant targets.