Allies Doubt the Shifting Saudi Story and Even Trump Is Citing 'Lies'

Bloomberg
10/22/2018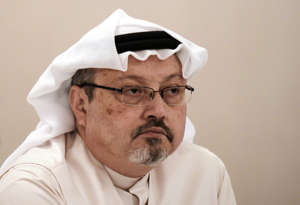 Slideshow by photo services
(Bloomberg) -- Saudi Arabia's evolving account of the death of journalist Jamal Khashoggi -- which the kingdom's foreign minister on Sunday cast as a "tremendous mistake" perpetrated by a "rogue operation" -- elicited skepticism from officials in the U.S. and its allies weighing how to respond.
France demanded more information, while Germany put arms sales to the oil-rich nation on hold. In the U.S., the Trump administration stressed the vital importance of the kingdom and its economy to the U.S. while Republican and Democratic lawmakers said they suspected knowledge of the killing reached the highest levels of the Saudi regime.
More than two weeks after Khashoggi disappeared, Saudi Arabia acknowledged over the weekend that the Washington Post contributor was killed inside the kingdom's Istanbul consulate on Oct. 2, characterizing his death as accidental. On Sunday, Foreign Minister Adel al-Jubeir said the killing was carried out by a "rogue operation" that then tried to cover it up. Crown Prince Mohammed bin Salman had had no knowledge of the plot, he said.
"This was an operation where individuals ended up exceeding the authorities and responsibilities they had," al-Jubeir said in an interview on Fox News. "They made the mistake when they killed Jamal Khashoggi in the consulate and they tried to cover up for it."
The dramatic reversal -- Saudi officials had previously said the columnist left the building alive -- seems only to have complicated the issue for allies.
Adel Al-Jubeir
In Sunday radio and TV interviews, Dominic Raab, the U.K. politician in charge of negotiating Britain's exit from the European Union, described the latest Saudi account as not credible; French Finance Minister Bruno Le Maire called for "the truth''; and Germany's Foreign Minister Heiko Maas said his government would approve no arms sales so long as the investigation was ongoing.
Saudi Arabia is an important market for all three countries. On Sunday, they also issued a joint statement, saying the Saudi investigation's "hypotheses" would "need to be backed by facts to be considered credible."
'Deception and Lies'
In an interview with The Washington Post, President Donald Trump, too, said the Saudi narrative had been marked by "deception and lies.'' Yet he also defended the crown prince as a "strong person'' and said there was no proof of his involvement in Khashoggi's death. Some members of Congress have questioned his willingness to exonerate the prince.
Turkish President Recep Tayyip Erdogan promised to disclose details about the case at a meeting of his AK Party's parliamentary faction on Tuesday, Haberturk newspaper reported.
Behind the rhetoric lie tough choices that the U.S. and other governments will have to make, between longstanding economic and defense ties to the kingdom and concern that failure to impose consequences on the slaying would give a green light for authoritarian regimes to kill inconvenient journalists and opponents worldwide.
"We have a longstanding relationship with Saudi that dates back to a long period of time," U.S. Treasury Secretary Steven Mnuchin told reporters in Jerusalem, during the first stop on a six-country Middle East swing that will include a visit to Riyadh. "We will continue in that relationship while we also simultaneously get to the bottom of what the facts are about the Khashoggi situation, which obviously is a terrible situation."
'Not Enough'
The Treasury chief -- who canceled his participation in a Saudi investment conference this week -- said that while the world seeks answers as to what happened to Khashoggi, "the information that's coming out is a good first step, but it's obviously not enough."
© Gokhan Balci/Anadolu Agency/Getty Images ANKARA, TURKEY - (ARCHIVE) : A file photo dated March 26, 2015 shows Prominent Saudi journalist Jamal Khashoggi speaking during a panel titled 'Crisis in Syria: An Endless War?' organised by Foundation for Political, Economic and Social Research (SETA) Foundation in Ankara, Turkey. Saudi journalist Jamal Khashoggi died after a brawl inside the Saudi consulate in Istanbul, Saudi Arabia announced Saturday. (Photo by Gokhan Balci/Anadolu Agency/Getty Images) In the meantime, Russian businesses are flocking to attend the investment forum in Saudi Arabia, as Western counterparts pull out. Russian President Vladimir Putin has had considerable success boosting Moscow's influence in the Middle East at U.S. expense, by standing by regimes that fall afoul of the West, including in Syria and Iran. Last week Putin signed a strategic and partnership agreement with Egypt's President Abdel-Fattah El-Sisi, backed by $25 billion in loans to build nuclear reactors. Until El-Sisi came to power, Egypt had been closely allied to the U.S.
Uproar in Congress
According to the latest Saudi account, "discussions'' of Khashoggi's status turned violent at the consulate. He died after being placed in a choke hold, a person with knowledge of the Saudi probe said. That conflicts with reports from Turkish officials, who say a Saudi hit team flew in specifically to kill and dismember him. According to a New York Times report, some members of the group had close ties to the crown prince.
The killing has sparked bipartisan outrage in Congress over Saudi Arabia's role, creating a divide between Capitol Hill and the White House ahead of November's mid-term elections. Mnuchin said it would be "premature to comment on sanctions" related to the killing until "we've gotten to the bottom of what's occurred."
Terrorism Financing
If Trump has a message for Saudi officials related to the investigation of Khashoggi's killing, Mnuchin said he would deliver it. He said discussions with the Saudis would focus on stopping terrorism financing.
Trump has strengthened ties with Saudi Arabia, which he sees as an essential player in advancing his Middle East policy. In the Washington Post interview, he stressed again the importance of Saudi Arabia to his policy of pressuring Iran -- a regime he described as "evil.'' Trump also says the incident shouldn't jeopardize U.S. weapon sales to Saudi Arabia or other potential investments, which he says are worth a total of $450 billion.
The president told reporters soon after the Saudi statement was published that "it's a great first step. I think we're getting close to solving a very big problem." Later Saturday, speaking to reporters in Nevada, he said it was a concern that Khashoggi's body is missing but reiterated that the journalist's killing shouldn't affect broader ties with the kingdom.
Had to Know
Congressional leaders on Sunday dismissed the story proffered earlier by the Saudis, with Republican Senators Lindsey Graham of South Carolina and Bob Corker of Tennessee saying they believed the crown prince was likely involved in Khashoggi's death.
Lawmakers said they believe the U.S. must impose sanctions on Saudi Arabia or take other action if the crown prince is shown to have been involved. Speaking on NBC's "Meet the Press," Senator Dick Durbin of Illinois, the chamber's No. 2 Democrat, said the Saudi ambassador to the U.S. should be formally expelled until a third-party investigation is done. He said the U.S. should call on its allies to do the same.
"Unless the Saudi kingdom understands that civilized countries around the world are going to reject this conduct and make sure that they pay a price for it, they'll continue doing it,"' Durbin said.
18 Detained
Saudi Arabia's King Salman removed a top adviser to Prince Mohammed and prosecutors have detained 18 people involved in the case. Trump said Saturday he would be talking to Prince Mohammed soon.
Mnuchin is spending the week in the region with visits including Qatar, Abu Dhabi, Jordan and Kuwait. The objective is to talk through enforcement of U.S. sanctions on Iran's oil industry, which go into effect Nov. 4. The Trump administration in May withdrew from a multi power nuclear agreement with Iran and is phasing in economic sanctions lifted under the 2015 accord signed during the Obama administration.
"We have an important relationship with Saudi focused on terrorist financing and focused on our common interests in stopping Iran's spread of terrorism and other issues," Mnuchin said.
(An earlier version of this story corrected the spelling of Dominic Raab in the fourth paragraph.)
(Updates with Saudi foreign minister the first paragraph.)
--With assistance from Ryan Beene.
To contact the reporters on this story: Marc Champion in London at mchampion7@bloomberg.net;Saleha Mohsin in Washington at smohsin2@bloomberg.net
To contact the editors responsible for this story: Rosalind Mathieson at rmathieson3@bloomberg.net, Mark Niquette, Ros Krasny
For more articles like this, please visit us at bloomberg.com
©2018 Bloomberg L.P.