Before capture, 'El Chapo' fled via secret doorway behind mirror

Reuters
1/11/2016
The world's most-wanted drug boss, Joaquin "El Chapo" Guzman, gave Mexican security forces the slip last week by opening a secret doorway hidden behind a mirror and descending into a sophisticated tunnel leading to the city's drains.
The infamous head of the Sinaloa drug cartel was arrested on Friday after a months-long manhunt that followed his escape by tunnelling out of a Mexican maximum security prison in July.
Before he was caught, Guzman spent hours below ground as his henchmen sought to lure pursuing Marines toward the roof of the house where he had been holed up in Los Mochis in his native state of Sinaloa. As rains started to fill the drains, Guzman eventually emerged from a manhole near a gas station a mile (1.6 km) across town and stole a car at gunpoint.
Video footage broadcast by Televisa on Monday showed Marines firing shots inside the house during Friday's dawn raid and images of the ground-floor dressing room where the tunnel entrance was hidden.
It took the Marines 90 minutes to find the tunnel entrance, giving Guzman a crucial headstart. The lever to open the reinforced door behind the mirror was concealed in the light of the dressing room, the video showed.
Below, there were submarine-like reinforced metal doors to avoid the tunnel flooding when water levels in the drains rose.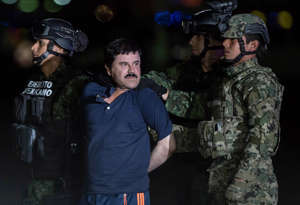 © Daniel Cardenas/Anadolu Agency/Getty Images Joaquin Guzman Loera, also known as 'El Chapo' is transported to Maximum Security Prison of El Altiplano in Mexico City, Mexico on January 08, 2016 Marines found another hole beneath a refrigerator which proved to be a red herring, the apparent beginnings of a project to build another escape route. They also found two women cowering in one of the home's five bathrooms.
"My holidays are over," Guzman said when he was finally caught, Televisa reported.
Items found by Marines at the Los Mochis property included DVDs of "La Reina Del Sur," a fictional series about a female drug boss starring Mexican actress Kate del Castillo.
Del Castillo accompanied Hollywood star Sean Penn to a secret meeting with Guzman at an undisclosed location in Mexico late last year, which the government says unwittingly helped lead to his capture.
Guzman told Penn in an interview published on Saturday by Rolling Stone magazine that he felt neither remorse nor responsibility for smuggling billions of dollars worth of drugs into the United States. Nor does he consider himself a violent man despite countless murders blamed on him, he told Penn.
Penn dismissed criticism of his visit to Guzman. "I've got nothin' to hide," Penn told AP on Monday.
Images broadcast by Televisa showed blood and bullet holes spattered on the white walls of the house. In Chapo's downstairs bedroom, there were flatscreen TVs and a sofa littered with injectable testosterone, syringes, antibiotics and condoms.
The Marines burst through two doors to find 15 of Guzman's henchman armed with machine guns and rocket launchers. Five of the hitmen were killed in the shootout, one of them falling from the roof to a patio and another dying on the street, Televisa said.
Mexico is formally starting extradition proceedings against Guzman, President Enrique Pena Nieto's government said late on Sunday, in the strongest sign yet that it intends to send him to the United States. But the process could take a year or more.
Finance Minister Luis Videgaray said his ministry's financial intelligence unit was working closely with the attorney general's office on the Guzman case.
WANTED IN THE UNITED STATES
On Sunday, Interpol served two extradition warrants, the Mexican attorney general's office said, kick-starting the latest attempt to have Guzman face U.S. justice for the hundreds of tonnes of cocaine, methamphetamine and heroin he has exported across the border.
Mexico regularly extradites leading traffickers but the government resisted handing over Guzman after his arrest in February 2014 as a point of national pride.
A top official from the Mexican attorney general's office said on Monday it would take "at least a year" for the extradition process to move forward.
The U.S. government wants Guzman, who is believed to be 58 years old, tried on charges ranging from money laundering to drug trafficking, kidnapping and murder.
Guzman, who is blamed for thousands of deaths in Mexico and the United States from addiction and gang warfare, is facing open federal indictments in seven U.S. jurisdictions.
Chicago and Brooklyn, New York are leading contenders to host what would be one of the highest profile U.S. criminal trials in years, former U.S. law enforcement officials said.
Chicago, which in 2013 dubbed Guzman its first Public Enemy No. 1 since Al Capone, has a sweeping 2009 indictment against him, including several counts of conspiring to smuggle and distribute drugs, as well as money laundering charges.
(With reporting by Frank Jack Daniel, Alexandra Alper, Anahi Rama and Veronica Gomez in Mexico City and Tracy Rucinski and Mica Rosenberg; Writing by Simon Gardner; Editing by Frances Kerry and Cynthia Osterman)