Bodies, wreckage from missing AirAsia flight found

Los Angeles Times
12/30/2014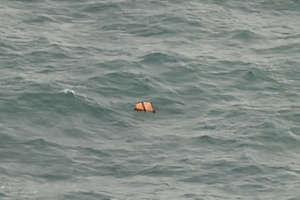 REPORTING FROM JAKARTA, Indonesia - Searchers pulled bodies from the Java Sea on Tuesday and found what officials said was the wreckage of Indonesia AirAsia Flight 8501 as the three-day mystery over the plane's whereabouts reached a heartbreaking resolution for the families of the 162 people aboard.
Relatives who had huddled and prayed since Sunday at the international airport in Surayaba, Indonesia, broke down and wept as television images showed a rescuer being lowered into the Java Sea to retrieve a swollen body floating at the water's surface.
At least three bodies were recovered and would be brought to Surabaya, officials said. So were an oxygen cylinder, a suitcase and a metal piece of fuselage.
"I am absolutely devastated," Tony Fernandes, AirAsia CEO, said in a statement.
"This is a very difficult moment for all of us at AirAsia as we await further developments of the search-and-rescue operations but our first priority now is the well-being of the family members of those on board QZ8501."
The airline, a Malaysia-based budget carrier that until now had never experienced a fatal accident, said the debris was found in the Karimata Strait between Singapore and Indonesia, about 110 nautical miles southwest of Borneo island. It was about six miles from the last known location of the aircraft, which lost contact Sunday morning while flying in heavy thunderstorms from Surabaya to Singapore.
"It's confirmed 100% that debris found in the sea are parts of the AirAsia plane," Bambang Soelistyo, the head of Indonesia's National Search and Rescue Agency, told a news conference in Jakarta.
Indonesian planes involved in the search operation also saw "an object that formed a shadow under the sea in the shape of an aircraft," Bambang said.
The discovery moved the massive, multi-nation search effort - which recalled the hunt for another Southeast Asian plane, Malaysia Airlines Flight 370, which has been missing since March - into a recovery and rescue mission.
Investigators were hoping to find the Airbus A330-200's flight data recorder and cockpit voice recorders, which were expected to offer clues into what went wrong about midway through the two-hour flight. The pilot requested an altitude change to avoid storm clouds but then the plane dropped off the radar. While most experts have focused on the bad weather, investigators say other factors, including mechanical failures and sabotage, have not been ruled out.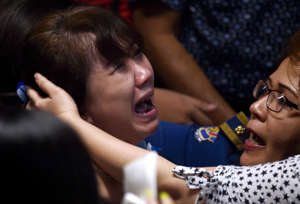 Family members were being asked to furnish authorities with photographs and DNA samples of passengers to aid in the identification process. Although officials have not ruled out survivors, the possibility was believed to be extremely remote.
AirAsia said it would bring counselors and religious and spiritual personnel to the crisis center it has set up at Surabaya airport to help the grieving families.
There were seven crew members and 155 passengers on board, including 137 adults, 17 children and one infant, the airline said. Among them, 155 were Indonesians, three were from South Korea and one each were from Singapore, Malaysia, Britain and France.
Indonesian President Joko Widodo, speaking at Surabaya airport, said, "I feel the loss and we all pray that all the families be given strength in this trying time."
Widodo said that ships and aircraft on Wednesday would continue a large-scale search operation to locate and retrieve the remaining bodies.
"The focus should be to evacuate the passengers and the crew," he said.
Officials at Singapore's Changi International Airport issued a Twitter statement saying, "We are saddened to hear the latest news of #QZ8501. We are working closely with AirAsia on travel arrangements for the next-of-kin."
Ships and aircraft from at least five countries searched across tens of thousands of square miles of sea and land between Indonesia and Singapore since Sunday. The focus Tuesday night shifted to recovering bodies and wreckage as divers were expected to work through the night, grappling with six- to 10-foot waves.
One factor in recovery teams' favor is that the Java Sea is a relatively shallow body of water, at most 160 feet deep, according to officials. That is about 100 times shallower than the isolated patch of the Indian Ocean where searchers are still looking for the Malaysia Airlines plane.
Some of the first clues could come from the condition of the fuselage under water, experts said. If it is found somewhat intact, that would be consistent with the plane going into an aerodynamic stall - where the wings no longer provide lift - as the captain tried to maneuver around the thunderstorm. That is similar to what happened with Air France Flight 447, which encountered icing conditions and stalled before crashing into the Atlantic Ocean in 2009, killing all 228 passengers and crew.
"You can't rule in or rule out anything, but if the fuselage they have seen underwater is in a large piece, there's a likelihood the aircraft came down in one piece and there was not an in-flight breakup that might have occurred due to the forces of the thunderstorm," said Jim Hall, a former chairman of the National Transportation Safety Board.
Whatever the cause of the crash, Hall said it should raise pressure on the aviation industry to employ deployable voice recorders, such as those the U.S. military uses, which are designed to detach from the aircraft upon impact and float. Such a device likely would have allowed search teams to find the plane faster, raising the possibility of survivors - and would also have helped crews searching for the Malaysia Airlines jet, many aviation experts say.
A San Diego-based U.S. naval destroyer, the Sampson, arrived in the search area Tuesday and was "prepared to assist in surface recovery efforts," Pentagon spokesman Rear Adm. John Kirby told CNN.
A second U.S. vessel, the Fort Worth, a littoral combat ship, was being prepared to deploy to the area from nearby Singapore and could be ready within two days, Kirby said. U.S. military personnel were also preparing maritime patrol aircraft that could help investigators map the field of debris if requested, he added.
Special correspondent Pathoni reported from Jakarta, staff writer Bengali from Mumbai, India.
UPDATES
7:06 a.m.: This article has been updated with additional background on possible causes of the crash.
6:03 a.m.: This article has been updated throughout with additional details and background.
4:35 a.m.: This article has been updated with comments from Indonesian President Joko Widodo.
4:27 a.m. This article has been updated with confirmation that debris discovered by searchers is from the missing plane.
2:02 a.m.: This article has been updated throughout with additional details and background.
12:21 a.m.: This article has been updated with additional details ith additional details and background..
11:11 p.m. Monday: This article has been updated with a statement from an Indonesian air force official.
This article was originally published at 11:04 p.m. Monday.