Death toll in blasts in Chinese port of Tianjin rises to 104

Associated Press
8/15/2015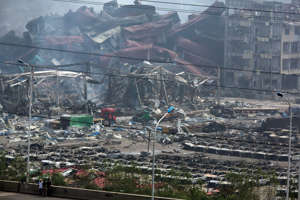 © AP Photo/Ng Han Guan Men gather on an elevated highway near the smoking remains of an explosion in northeastern China's Tianjin municipality Saturday, Aug. 15, 2015. New explosions and fire rocked the Chinese port city of Tianjin on Saturday, where one survivor was pulled out and authorities ordered evacuations within a 1.8-mile radius to clean up chemical contamination. TIANJIN, China (AP) — State media say the death toll from massive blasts in the Chinese port of Tianjin has risen to 104.
The new toll Saturday came rescuers scour the warehouse district devastated by a fire and series of explosions late Wednesday at a warehouse for hazardous chemicals.
Rescuers also found an additional survivor Saturday as authorities evacuated much of the area to clean up dangerous chemical contamination. Several additional small explosions rocked the disaster zone as the clean-up continued.
The toll includes at least 21 firefighters — making the disaster the deadliest for Chinese firefighters in more than six decades. Several remain missing.
A total of 720 people were injured in the disaster in Tianjin, a key port and petrochemical hub east of Beijing.