Driver In Sweden Mistakes Group Of Bearded Men For ISIS, Calls Police

HuffPost
10/13/2015
On Saturday, about 30 bearded men met up at the historic Brahehus Castle outside Granna, Sweden. All were members of Bearded Villains, an international organization for beard aficionados, and they were posing for a group photo.  
About an hour later, the police showed up.
They had received a call from a passing driver who reported having seen a group of terrorists carrying the Islamic State's flag, Andreas Fransson, a Bearded Villains group member, told The WorldPost on Monday in a Facebook message.
The Bearded Villains' flag, as can be seen in the photo below, features the group's name in white text and the image of two swords:
Apart from its monochrome color scheme, the Bearded Villains' flag hardly resembles that of the Islamic State, also known as ISIS. An upside-down version of the flag can be seen below: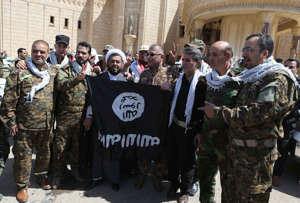 "I thought that they were joking at first," group member John Ekeblad told Sweden's Sveriges Television on Monday. "We had parked one of our cars on a pedestrian trail, and thought that that was the problem." 
"At first we thought that we might be in the way for tourists or that they were there on a routine check," Fransson said. "They laughed, we laughed and we had a chat about it."
Although the run-in was a laughable affair for both the police and the group at the time, the underlying, worrying message didn't go unnoticed.
"Being mistaken for ISIS is depressing, because it means that people are so quick in their judging, they see a flag, black with withe [sic] text, and bearded men, and instantly assume we are ISIS," Fransson said.
Bearded Villains, which was founded last year, is an organization of beard enthusiasts with chapters across the world, from Miami to Germany to Kuwait. Its website and social media accounts highlight funnyaphorisms about beards, share grooming tips and sell Bearded Villains merchandise. 
The Swedish chapter is also a charitable group, having previously raised money for the Swedish Prostate Cancer Foundation and for organizations addressing homelessness in the United States. Its mission is to "make the world a better place for everyone, we stand up against oppression, bullying, homophobia and more," Fransson said.
"The idea that we, a charitable organization[,] would be mistaken for ISIS was so profound," he added.