Finns Take to the Streets to Protest Before Trump-Putin Meeting

Bloomberg
7/15/2018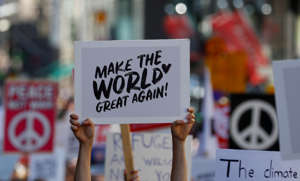 (Bloomberg) -- As U.S. President Donald Trump and Russia's Vladimir Putin prepare to meet in Helsinki on Monday, thousands of Finns took to the streets.
About 2,500 people marched in the Finnish capital on Sunday, behind a banner that read "Helsinki calling for human rights." The country's biggest newspaper, Helsingin Sanomat, had arranged for the words "Mr. President, welcome to the land of the free press" to be displayed across the outside of the main airport, in English and Russian.
Trump's European trip has been dogged by mass demonstrations. In London, tens of thousands of people marched under an effigy of the U.S. president in balloon form, depicting him as an orange baby. In Scotland, where Trump took a break between official visits to play golf at one of two resorts he owns in the country, there were protests in Glasgow and Edinburgh.
Still, by Sunday afternoon in Finland, the number of people marching was well below the 12,000 that arrangers had expected. Meanwhile, the youth wing of the country's anti-immigration party, The Finns, managed to get about 50 people to hold a pro-Trump rally. Organizers distributed hats that read "Make Helsinki Great Again."
To contact the reporter on this story: Kati Pohjanpalo in Helsinki at kpohjanpalo@bloomberg.net
To contact the editor responsible for this story: Tasneem Hanfi Brögger at tbrogger@bloomberg.net
©2018 Bloomberg L.P.