Hamburg police request reinforcements for G20 demos

AFP
7/7/2017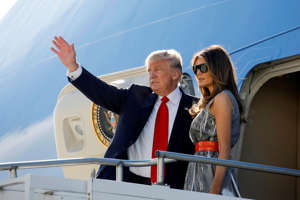 Police in Hamburg on Friday requested reinforcements from elsewhere in Germany to help cope with demonstrations and clashes around the G20 summit, a police spokesman told AFP.
Hamburg police, who are already being backed up by officers from other German states as well as Austria, made the request "in order to get relief," the spokesman said, confirming a report in the Die Welt daily.
There are currently 20,000 police officers on duty for the two-day summit that began Friday in Germany's second city, backed by helicopters, water cannon trucks and surveillance drones.
The police spokesman also raised the number of police officers injured so far in running battles with demonstrators late Thursday and overnight to 159 with 45 arrests.
Protest actions resumed early on Friday with activists torching cars, smashing windows and even firing flares at police helicopters and slashing tyres on the Canadian delegation's cars.
Small groups played cat and mouse with police blocking traffic and trying to stop leaders from reaching the summit venue.
German news agency DPA reported that US First Lady Melania Trump was unable to leave her residence as a result, and she was unable to join a trip around Hamburg harbour with fellow spouses.