Greece's finance minister out as eurozone weighs cost of 'No' vote

AFP
7/6/2015
Greece's Prime Minister Alexis Tsipras on Monday sacrificed his finance minister in a gesture aimed at placating eurozone creditors, which must now decide whether to loan more money to the debt-wracked country or prepare for a "Grexit".
A day after the Greeks said a resounding "No" to further austerity measures in return for bailout funds in a crunch referendum, finance minister Yanis Varoufakis said he was stepping down immediately and at Tsipras's request.
The flamboyant minister, who had openly irritated his European counterparts, said on his blog announcing his resignation that "I shall wear the creditors' loathing with pride."
The euro had tumbled as much as 1.6 percent in electronic trading immediately on the 61-percent 'No' result from the referendum, but recovered after Varoufakis's shock resignation to $1.1086, just 0.25 percent lower.
European markets also gave a relatively muted reaction, with losses limited in mid-morning trade at around 1.5 percent.
German Chancellor Angela Merkel was to meet with French leader Francois Hollande in Paris amid a flurry of other meetings to size up the implications of the vote, a victory for Greece's radical left-wing Tsipras, who insisted it did not mean a "rupture" with Europe.
Eurozone leaders were also due to hold an emergency summit on Tuesday, and several of them had described the vote as an in-out decision on Greece's euro membership.
With capital controls shuttering banks and rationing euros from ATMs, Greece urgently needs a cash injection from the European Central Bank (ECB) to prevent its economy grinding to a halt. Failing that, it could be forced to print IOUs or return to the drachma -- effectively heralding a Greece exit from the euro, or Grexit.
Varoufakis's departure fuelled hopes that the creditors -- the ECB, the European Commission and the International Monetary Fund (IMF) -- could be persuaded to return to negotiations.
'A Pyrrhic 'No'?'
French Finance Minister Michel Sapin said it was now up to the Greek government to make new proposals. "The vote itself solves nothing," he said, adding that the margins for dialogue with Greece were "very thin".
European leaders had reacted with a mix of dismay and to the figures released by the Greek interior ministry early Monday showing the final tally in the referendum at 61.31 percent "No" and 38.69 percent "Yes", with turnout at 62.5 percent.
Tsipras has "torn down the bridges" between Greece and Europe, Merkel's deputy chancellor, German Economy Minister Sigmar Gabriel, told the Tagesspiegel newspaper.
Jeroen Dijsselbloem, who heads the Eurogroup of finance ministers, called the Greek "No" result "very regrettable for the future of Greece".
He is due to hold a teleconference on Monday morning with European Commission head Jean-Claude Juncker and European Union president Donald Tusk and the head of the Eurogroup of eurozone finance ministers.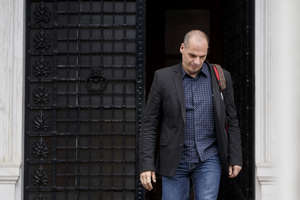 Meanwhile, German and French finance ministers were holding talks in Warsaw, while the Euro Working Group of top treasury officials was to meet in Brussels.
More than three quarters of Greeks want to stay in the eurozone, according to surveys but analysts are now putting the chances of a Grexit at "very high".
"Did Tsipras celebrate a Pyrrhic 'No'?" asked Carsten Brzeski, chief economist at ING-DiBa bank.
There is "lots of bad blood is on the floors, Greek banks are closed and Greece does not have a bailout programme," he noted.
Holger Schmieding, analyst at Berenberg bank, also warned that the change in finance minister may be "more symbolic than a change of substance" as Varoufakis has not been leading the negotiations since April.
"Greece is in limbo until further notice, sliding towards Grexit unless Athens changes course," he said.
Massive debt
After a jubilant celebration on Sunday night by "No" voters, Athens returned to the reality of queues at ATMS for their daily withdrawals of just 60 euros ($67) imposed last week as part of capital controls to halt a haemorrhage of cash.
Tsipras, 40, insists that instead of Grexit, the creditors will finally have to talk about restructuring the massive, 240-billion-euro ($267 billion) debt Greece owes them.
Last Tuesday, his country defaulted on a 1.5-billion-euro repayment to the IMF, becoming the first developed country to fall into arrears to the institution.
That same day, the last EU-IMF bailout for Greece ran out, despite Tsipras's appeals for it to be extended.
Greece was officially declared in default on Friday by the European Financial Stability Facility, which holds 144.6 billion euros ($160 billion) of Greek loans.