'I think they like me there:' Trump says he's popular in UK despite threat of protests

CNN
7/12/2018
Update: President Trump is wheels down in the UK. He'll start his day there on Thursday with a visit with British Prime Minister May.
On Friday, Trump and May will visit a defense site and then travel to Chequers, the Prime Minister's official country retreat, for bilateral talks. They'll have a news conference afterward.
Trump and the first lady will then go on to Windsor Castle to meet the Queen.
Previous report:
US President Donald Trump has shrugged off protests planned across the UK ahead of his arrival there Thursday, claiming he is very popular in Britain because of his hardline stance on immigration.
Speaking at an impromptu press conference after a NATO summit in Brussels Trump said the British people shared his concerns on immigration, claiming "that's why Brexit happened."
"I think they like me in the UK. I think they agree with me on immigration," he said, also reminding reporters that his mother was from Scotland, which he plans to visit after his official meetings in England.
Trump also issued a warning to the European Union, telling it to "be very careful" of increasing immigration into the region, as he described a global backlash to migration.
"I partially won an election because of immigration," he said, also pointing to Italy's recent vote, in which Giuseppe Conte took the government after campaigning on a populist anti-immigration platform.
MORE: Donald Trump brings own wall of steel on UK visit as protesters gather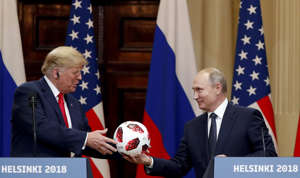 Slideshow by photo services
Trump will spend four days in the UK, where he will meet with Britain's Queen Elizabeth II and Prime Minister Theresa May. Although he will visit the US ambassador's residence, he is largely avoiding central London, where the largest protests are expected Friday.
May was the first head of government to officially meet Trump as president, in January 2017. It was during that trip to Washington that she invited him to the UK.
Trump postponed his trip several times as a petition to block him from entering the UK gained so many signatures that it was debated in parliament. The UK's speaker of parliament made clear that Trump, because of his values, would not be invited to address MPs.
The petition against Trump claimed an official state visit would be embarrassing for the queen. Trump is technically on a lower-level working visit this week.
He again postponed his visit in January this year after remarking that the relocation of the US embassy in London was a "bad deal" made by President Obama, and that he was not interested in cutting the ribbon at the opening.