London, 'reeling'? The city that weathered Nazi bombs pushes back against fear.

The Washington Post
6/4/2017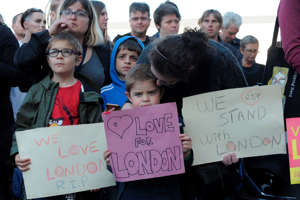 © ANDY BUCHANAN/AFP/Getty Images People hold up signs in solidarty with victims of the London terror attack outside the County Hotel in Carlisle, Cumbria, on June 4, 2017 where Britain's main opposition Labour Party leader Jeremy Corbyn delivered a speech in response to the terror attack on London Bridge and Borough Market. The first reports of "an incident" in London emerged Saturday evening.
Within hours, cable news channels were saturated with the all-too-familiar loop of panicked faces, desperate crowds scurrying for safety and scowling, heavily armed police. On Sunday morning, the New York Times said the latest terrorist attack in London had targeted a nation "still reeling" from a suicide bombing in Manchester last month.
Subscribe to the Post's Today's Headlines newsletter: All the top stories of the day - local, national and global.
On Sunday, some Londoners started pushing back against the notion that their city — if not their country — was trembling in fear. They had a simple message: "London is not reeling." Their resistance was epitomized by an image that has been shared more than 26,000 times showing a British man casually holding a pint as he joins others fleeing the scene of Saturday night's attack.
People fleeing #LondonBridge but the bloke on the right isn't spilling a drop. God Bless the Brits! pic.twitter.com/ceeaH0XxeX

— Howard Mannella (@hmannella) June 3, 2017
The people hating on this guy are blatantly NOT British. We find this a) funny and b) admirable.

— Sgt.Big_Bubbles! (@Big_Bubbaloola) June 4, 2017
Steely resilience in the face of unforgiving tragedy is considered a fixture of British patriotism, according to the popular narrative. That defiant love of country was forged amid the Nazi bombing campaigns of World War II, the narrative goes, a period in which ordinary Londoners kept their chins up as death rained from above.
British social-media users were quick to remind the world of that courageous spirit in the wake of Saturday's attack.
"Keep Calm and Carry On" — the popular World War II mantra that came to define the city's resolute character — was resurrected online.
In a statement posted on Twitter, London Mayor Sadiq Khan said he was appalled by the "horrific attack" but noted that London "will never be cowed by terrorism."
This is what "reeling" means in British English @nytimespic.twitter.com/F9QJ9kaR7X

— Andy L (@A_V_M_L) June 4, 2017
London is the city of the Blitz. Absurd and scandalous to suggest Londoners are reeling or scared. Mourning the dead, yes. On with #GE2017

— Jason Cowley (@JasonCowleyNS) June 4, 2017
The thugs who mowed down innocent people would love to think of the UK 'reeling' but it isn't. Don't confuse grief with lack of courage. https://t.co/9MEUfPLnkv

— J.K. Rowling (@jk_rowling) June 4, 2017
Dear foreign journalists: London is not 'reeling' 'cowed' or 'on lockdown'. London is getting on with stuff, as usual.

— Paul Richards (@Labourpaul) June 4, 2017
Tweets I'm seeing from UK on terror attacks much less panicked/political than from US.

This despite:

1 Their country

2 Election this week

— ian bremmer (@ianbremmer) June 4, 2017
This sort of hyped-up headline does the terrorists' job for them. UK isn't "reeling" @nytimespic.twitter.com/KKesMHHIFY

— Robert Harris (@Robert___Harris) June 4, 2017
Ridiculous front page. Nobody here is under siege. The terrorists were all killed within eight minutes. pic.twitter.com/w2OZeJBmi2

— Adam Bienkov (@AdamBienkov) June 4, 2017
Still shut in Vauxhall Tavern. Air con unit still dripping. Madonna's Like A Prayer still playing.

We are safe.

We have gin.#Londonpic.twitter.com/c3REQWqU3v

— Rob Holley (@robholley) June 3, 2017
Police say the attack began when a van targeted pedestrians on London Bridge before the vehicle's occupants exited with knives and began stabbing people on the street and in nearby bars and restaurants, according to The Washington Post's Griff Witte, Karla Adam and Rick Noack. The attack occurred less than two weeks after a suicide bomber struck at the end of an Ariana Grande concert in Manchester, killing 22 and injuring 116, many of them young girls.
London Metropolitan Police Commissioner Cressida Dick confirmed that seven people were killed in the Saturday rampage. The three attackers were fatally shot by police about eight minutes after authorities were alerted, The Post reported.
The London Ambulance Service earlier said it had taken "at least 48 patients to five hospitals across London."
As doctors and nurses tended to the wounded, police carried out raids in the East London neighborhood of Barking. A dozen people were arrested, police said.
Prime Minister Theresa May blamed the attack on the "evil ideology of Islamist extremism" and promised a review of Britain's counterterrorism laws.
As authorities continue their investigation, some residents are calling for calm.
On his blog, Owen Jones, a writer and Guardian columnist, penned a post emphasizing that terrorism's success is dependent upon its impact.
Jones said he was sharing a drink with friends when "three hate-filled murdering terrorists" attacked his city. As news of the attack spread, he wrote, people continued for many hours to laugh, chat, drink and dance. Not because they didn't care, he pointed out, but because they intended to carry on their lives after checking on their loved ones.
"What would have been the alternative?" he wrote. "For London's pubs, bars, restaurants, clubs to all empty as their patrons fled home in terror? To bolt their doors, to stay inside, to venture outside only when necessary, eyeing suspiciously everything and anything?"
"Today, London carries on," he added. "It is quiet by London-standards because it's a Sunday. There are people in the parks. Some have gone for a swim. Others have taken their kids out. Others are in the pub, drinking: I can see them from my windows. Others are watching box sets at home. Their lives are continuing. They are not scared, and they are not cowed, and they are not allowing fanatics to win by ruining their lives."
Brilliant & defiant interview from someone who was in a restaurant attacked last night here in London. The right response from a tough city. pic.twitter.com/iyZT8V63Vc

— Brian Klaas (@brianklaas) June 4, 2017
Richard Angell, who was in the Arabica bar and kitchen in Borough Market during the attack, returned to the restaurant Sunday to pay his bill and tip the staff, according to the Guardian.
"If me having a gin and tonic with my friends, flirting with handsome men, hanging out with brilliant women is what offends these people so much, I'm going to do it more — not less," he told the BBC. "That's what makes London so great, that's what makes this the best city in the world."
We will never be afraid. We keep calm and carry on.

Our love of life will always defeat their love of death.#londonattackpic.twitter.com/8Qf2r5VO0t

— James Melville (@JamesMelville) June 4, 2017
Griff Witte, Karla Adam and Rick Noack contributed to this report.
MORE READING: 
The French disliked a White House video on the Paris accord — so they changed it.
Russian entrepreneurs wish you'd stop worrying about Putin and start thinking about them
The U.N. asked for billions to avert four hunger crises. The money didn't arrive.