No sign North Korea denuclearizing says Joint Chiefs chairman

Washington Examiner
3/21/2019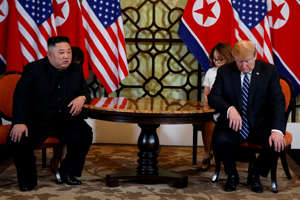 © ASSOCIATED PRESS President Donald Trump meets North Korean leader Kim Jong Un, Thursday, Feb. 28, 2019, in Hanoi. (AP Photo/ Evan Vucci) Joint Chiefs chairman Gen. Joseph Dunford says he has no idea if North Korea's Kim Jong Un is serious about the promises he has made to President Trump, including his pledge to continue a moratorium on nuclear and missile tests while talks over denuclearization continue.
But Dunford told a forum at the Atlantic Council in Washington, D.C., Thursday that from his perspective it doesn't really matter.
Dunford spelled out his three Korea missions: support diplomacy, deter the North from attacking, and be ready to respond if deterrence fails. None of those has changed.
"I see that Kim Jong Un still has a ballistic missile capability. I see that Kim Jong Un still has nuclear capability. I still see a potential, although as yet undemonstrated, ability to match a nuclear weapon with an intercontinental ballistic missile," Dunford said. "And I think it's incumbent upon the United States military to be prepared to defend the homeland and our allies from that eventuality. And so that's what we're focused on."
Dunford said he's in no position to know what Kim is thinking and instead has to focus on his capabilities.
"I don't have any unique insights to share with you about whether or not North Korea is going to test a missile in the near future, whether or not they're going to continue the path of nuclear development in the near future," Dunford said.
"I would describe my job is to be the glass-half-empty guy when it comes to North Korean capabilities," Dunford said, adding his assessment of Kim's intent has nothing to do with how the military executes its mission on a day-to-day basis.