Photos show lack of fresh water in Latin America
Microsoft News
|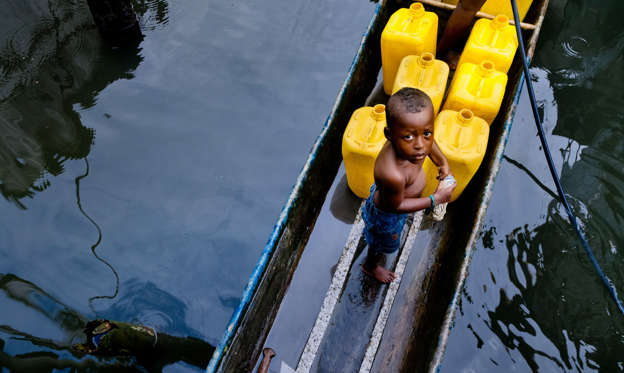 In this photo by Jan Sochor, a Colombian boy stands in a canoe, filled by barrels of safe drinking water, inside the stilt house area in Tumaco, Colombia on June 17, 2010. 
The 39-year-old photojournalist explains that although Latin America is blessed with an abundance of fresh water, having 20% of global water resources in the Amazon Basin and the highest annual rainfall of any region in the world, an estimated 50-70 million Latin Americans (one-tenth of the continent's population) lack access to safe water.
Jan's striking photo series highlights the growing number of people suffering from lack of access to basic water supply and facilities all around the world.
In light of this the United Nations General Assembly has designated this Sunday (22 March) as the first International World Water Day.
The esteemed photographer travelled through Lima in Peru, Colombia's Pacific coast and Haiti to witness how water scarcity and limited access to clean water affects people's daily lives.
"100 million people have no access to any safe sanitation. Complicated geographical conditions, mainly on the Pacific coast, unregulated industrialisation which led to environmental pollution and massive urban poverty.
"This combined with deep social inequality, has caused a severe water supply shortage in many Latin American regions."
As Jan travelled through Lima, Colombia & Haiti he saw the struggle people faced trying to find fresh water that was safe to drink. People would have to pay water distribution workers to fill plastic barrels with safe drinking water.
The communities rely heavily on the clean water carried in barrels to survive and as the only safe way to drink clean water and avoid disease or illness.
The UN water organisation has said that 783 million people to not have access to clean water and almost 2.5 billion do not have access to adequate sanitation. Water use is also said to be increasing much faster than populations.
This Sunday's international event conforms with the recommendations of the United Nations Conference on Environment and Development.
The theme for this year's event is "Water and Sustainable Development," which is about how water links to all areas we need to consider to create the future we want.
Click through the gallery above for more of Jan's photos.
© Jan Sochor/Rex Features