President apparently couldn't get a hotel room for G20

New York Daily News
7/6/2017
Video by Inside Edition
President Trump apparently can't get a hotel room in Hamburg.

The White House waited too long to book the mogul-in-chief any accommodations for the G20 Summit this week, leaving it uncertain where the leader of the free world will be sleeping, according to a German news report.
The Hamburger Abendblatt reported that when the U.S. government tried to find Trump a room in Hamburg, it discovered that every luxury hotel in the city was already booked — thanks, largely, to G20.
The Abendblatt and BuzzFeed News called some of the ritziest hotels in Hamburg to see who had them, and whether Trump had found a room.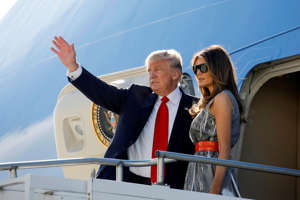 Slideshow by photo services
All of the highest rated hotels — including the Four Seasons and the Park Hyatt — were already packed with leaders and delegates from the other nations who will be coming together for the summit this weekend. Some guests, such as Saudi Arabia's King Salman, booked entire hotels for themselves and their staff.
It is unclear where Trump — who owns an empire of hotels worldwide, but none in Germany — will be staying after he finishes his two-day trip in Poland.
The White House did not return a request for comment. The Associated Press said Trump will stay at the Senate guesthouse, while the U.S. Consulate General in Hamburg will host his staff.