President Trump's and Richard Branson's Caribbean homes destroyed by Hurricane Irma

MarketWatch
9/8/2017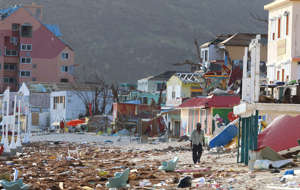 In photos: Hurricane Irma An 11-bedroom mansion owned by President Donald Trump on the Caribbean island of St. Martin is reported to have been torn apart by Hurricane Irma, while the luxury home of billionaire entrepreneur Richard Branson in the British Virgin Islands was also destroyed.
President Donald Trump has been trying to sell the property, a waterfront estate with a pool and fitness center, and lowered the listing price to $16.9 million from $28 million in August, according to the Washington Post.
French officials said that the four most solid buildings on the island had "suffered serious damage," making it unlikely Trump's house had been spared.
Hurricane Irma crashes into Donald Trump's Caribbean estate on St Martin island | The Independent https://t.co/eykUB1KAfE

— T, chai blue (@takavl) September 7, 2017
Branson's son Sam posted the news of his father's property's destruction on Instagram earlier Thursday. His father, owner of Virgin Airlines and Virgin Media, among other interests, had tweeted ahead of the storm that he would be hunkering down with guests in a concrete wine cellar underneath his house on Necker Island to ride out the storm, which is now confirmed to be the most powerful hurricane to ever form in the Atlantic.
Expecting full force of Hurricane #Irma in about 4 hours, we'll retreat to a concrete wine cellar under the house https://t.co/tF84SPx7aBpic.twitter.com/wMUDoX3O4v

— Richard Branson (@richardbranson) September 6, 2017
The tweet drew derision for sounding tone deaf, given the dire conditions that many other people across the Caribbean would endure. The region is expected to suffer terrible financial losses as the scale of the destruction becomes apparent. The islands depend heavily on tourism and initial reports say that vital infrastructure has been badly damaged.
At least 10 people are reported to have died. The island of Barbuda, the first to be hit by Irma, has reportedly been all but wiped out. Puerto Rico says that nearly 900,000 people are without power, and the Puerto Rico Electric Power Authority gave a stunning warning Wednesday that parts of the island could be without electricity for up to six months.
Unbelievable. #Irma has snapped all the cell towers on #Barbuda. That's reinforced steel - photo: ABS pic.twitter.com/NF5v698XJa

— Jonny Hallam (@Jonny_Hallam) September 6, 2017
Branson's company Virgin issued a statement that said: "We are deeply saddened by the events that have taken place in the last 24 hours and our hearts and thoughts are with our friends and family in the Caribbean. We are very grateful to be able to report that all of our team on Island have been accounted for as safe as well. Necker Island felt the effects of Hurricane Irma and sustained extensive damage, the extent of which we are still assessing."
Read now:Death toll rises to 8 as Hurricane Irma barrels through Caribbean, heads for Florida
Branson also warned other people in the path of the storm to take all precautions.
"Homes can be rebuilt but lives can't," he wrote. "Nature warning us again of the impact of #climatechange. We must all do more to combat this."
Ahead of the storm, Branson wrote that his guests were enjoying a sleepover in two rooms.
"I haven't had a sleepover quite like it since I was a kid," he wrote, describing the atmosphere on the island as "eerie but beautiful."
I haven't had a sleepover quite like this since I was a kid. Wonderful team here on Necker all well https://t.co/tF84SPx7aB#Irmapic.twitter.com/DnnfUaeXhd

— Richard Branson (@richardbranson) September 6, 2017
The stock market bounced between gains and losses Thursday, with traders in part weighing Irma's impact on the U.S. economy. The Dow Jones average (DJIA) and the S&P 500 (SPX) were last down less than 0.1%.