Pressure Builds on Netanyahu to Move for Early Elections

Bloomberg
11/16/2018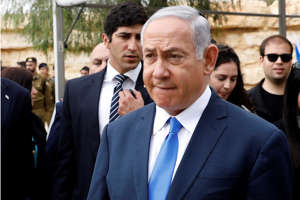 (Bloomberg) -- Israeli Prime Minister Benjamin Netanyahu struggled to stabilize his tottering government after his defense minister's resignation, as a key meeting Friday with a second junior partner ended in discord.
Netanyahu rejected Education Minister Naftali Bennett's demand for the defense portfolio, saying it was important for the prime minister himself to manage defense for now given the "critical challenges facing the state," Netanyahu's office said in a statement. A person close to Bennett, who had threatened to withdraw his party's eight lawmakers and topple the government if he wasn't named defense minister, said that Netanyahu and Bennett had agreed the coalition couldn't be saved and a date for early elections would be set Sunday.
Netanyahu's office said no such decision had been taken and that the prime minister would meet with heads of other coalition parties Nov. 18 in an effort to keep his conservative government alive.
"The prime minister stressed that it was important to make every effort to maintain the right-wing government and not make a historic mistake," the statement said.
The coalition was thrown into turmoil Wednesday when Defense Minister Avigdor Liberman resigned and pulled his Yisrael Beitenu party's five legislators out of the government, saying Netanyahu wasn't responding forcefully enough to rockets fired into Israel by Palestinian militants in Gaza.
Corruption Probes
Liberman's resignation left Netanyahu in control of just 61 of 120 seats in Parliament, but he had governed with such a razor-thin majority before. Bennett, a political rival courting the same nationalist audience that forms Netanyahu's base, has been fiercely critical of what he considered the government's undue restraint in responding to rocket attacks from the Gaza Strip.
Elections currently are slated for November 2019, but Israeli commentators expect them to be moved up to sometime between March and May, giving Netanyahu time to finalize several key appointments. Elections aren't expected to produce a significantly changed parliament, with polls taken after the political crisis erupted predicting little change in the Knesset's right-left divide.
Why Early Election Could Be Just What Netanyahu Needs: QuickTake
There have been months of speculation about whether Netanyahu would disband an unruly government and seek a popular mandate with corruption allegations hanging over his head.
A two-year-old probe against the prime minister is inching toward a conclusion, with Attorney General Avihai Mandelblit due to decide whether to indict him in multiple cases. Some commentators have reasoned that if the prime minister goes to early elections and wins big, Mandelblit might hesitate to take action against him.
Netanyahu has denied wrongdoing in the cases against him, contending he's the victim of a leftist cabal that wants to bring down his conservative government. He's now also facing criticism from residents of southern Israel who are furious he agreed to a truce with Gaza Strip militants who bombarded them with rocket and mortar fire earlier this week.
Election Genie
It was that cease-fire and attempts to reach a long-term truce with Hamas in Gaza that Liberman cited in his resignation statement, calling them "a capitulation to terrorism." He also faulted Netanyahu's decision to let Qatar transfer $15 million to Gaza to ease the dire humanitarian situation there, saying the money would support families of militants who attacked Israel.
The current government was formed in 2015 and, if elections are indeed called early, would be the last in a long line of Israeli coalitions to fall apart before their terms expired. According to a Hadashot News poll Wednesday night, Netanyahu's Likud would remain the dominant party, declining to 29 seats from 30, while Bennett's representation would rise slightly to 10 seats.
Such calculations have proven wrong in the past once the election genie has been let out of the bottle. The statement from Netanyahu's office cited the example of 1992, when hardliners toppled a Likud-led government, expecting to further strengthen their hold in fresh elections. Instead, the Labor Party swept to power under Yitzhak Rabin and went on to sign a peace accord with the Palestinians that is widely reviled by Israeli conservatives.
On Thursday, Finance Minister Moshe Kahlon and Interior Minister Arye Deri also urged Netanyahu to call early elections. The person close to Bennett said the opposition in particular from Kahlon -- whose Kulanu party holds 10 seats in the Knesset -- made it impossible for the current government to continue.
To contact the reporters on this story: Amy Teibel in Jerusalem at ateibel@bloomberg.net; Michael S. Arnold in Tel Aviv at marnold48@bloomberg.net

To contact the editors responsible for this story: Alaa Shahine at asalha@bloomberg.net, Mark Williams
For more articles like this, please visit us at bloomberg.com
©2018 Bloomberg L.P.