Putin again denies Russian interference in the 2016 U.S. election; Trump calls probe a 'disaster for our country'

The Washington Post
7/16/2018
HELSINKI —President Trump refused to support the conclusion of U.S. intelligence agencies that Russia interfered in the 2016 presidential election, saying at the end of his summit here Monday with Russian President Vladimir Putin that the autocrat privately gave him an "extremely strong and powerful" denial.

After Putin claimed his government played no role in trying to sabotage the U.S. election, as the Justice Department charged last Friday in indictments of 12 Russian intelligence officers for hacking Democratic emails as part of a broad subterfuge operation, Trump offered no pushback. He went on to condemn the expansive federal investigation of Russian interference as "a disaster for our country."
Trump's warm embrace of Putin throughout a lengthy news conference was an extraordinary capstone to their first formal summit here Monday, where the two presidents spent two hours speaking alone, joined only by their interpreters.
The U.S. president's failure to directly confront his Russian counterpart stunned Washington's national security establishment and drew stern rebukes from leaders of both political parties.
Subscribe to the Post Most newsletter: Today's most popular stories on The Washington Post

In their tête-à-tête, Putin — a former KGB agent trained in psychological ma­nipu­la­tion who has two decades of experience negotiating with American presidents — apparently persuaded Trump to discount the findings of his own intelligence agencies. When an American journalist asked Trump whether he believes U.S. intelligence or Putin, Trump replied, "They said they think it's Russia. I have President Putin; he just said it's not Russia."

Trump added: "I will say this: I don't see any reason why it would be. . . . I have great confidence in my intelligence people, but I will tell you that President Putin was extremely strong and powerful in his denial today."
With Trump looking on, Putin insisted to reporters that "the Russian state has never interfered and is not going to interfere into internal American affairs, including election process."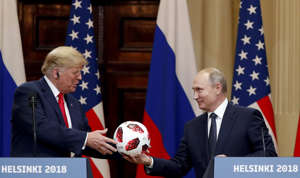 Slideshow by photo services
Trump also insisted that there was no coordination between his campaign and Moscow. "I didn't know the president. There was nobody to collude with. There was no collusion with the campaign."

Trump said that he holds "both countries responsible" for the frayed relations between the two nations and attacked special counsel Robert S. Mueller III's investigation.
Putin later confirmed that he did want Trump to win in 2016, "because he talked about normalizing relations" between Russia and the United States. Yet Putin did not answer directly when pressed on whether the Russian government had compromising information on Trump or his family members, dismissing it by saying that "it's hard to imagine greater nonsense." He told reporters, "Please throw this junk out of your head."
During their two-hour one-on-one talk earlier Monday, in which the leaders were accompanied only by interpreters, Trump and Putin discussed their disagreements "at length," Trump said. He added: "Our relationship has never been worse than it is now. However, that changed, as of about four hours ago."
The summit began hours after Trump on Twitter blamed his own country, rather than Russia, for the hostilities between their two nations.
Speaking first at the news conference, Putin said the talks took place "in a frank and businesslike atmosphere," adding, "I think we can call it a success." He said that although bilateral relations have been "going through a complicated stage," there was "no solid reason" for that.
"The Cold War is a thing of the past," he said.
Putin added that Trump "mentioned the so-called interference of Russia in the American election" in 2016. Putin again denied any involvement by the Russian state and said any evidence of interference can be analyzed through a joint working group on cybersecurity.
Putin said later in response to a question that U.S. investigators possibly could come to Russia to participate in the questioning of suspects after a dozen Russian intelligence officers were indicted in the United States on charges of election interference.
Elaborating, Putin said representatives of the Mueller probe could be present at interrogations of suspects in Russia — as long as Russians would be able to do the same at the questioning of U.S. intelligence agents that Moscow suspects of carrying out crimes on Russian soil. Any questions about Russian interference in the U.S. elections, he said, should be resolved by the courts and according to existing intergovernmental agreements.
"Let the Mueller commission send us a request, and we will do the work necessary to respond," Putin said. "We can expand this cooperation — but we will then also expect from the U.S. side access to people who we believe are members of the intelligence agencies."
In response to questions, Trump said that both countries were to blame for the deterioration of relations. "I do feel that we have both made some mistakes," he said. He added that "there was no collusion" between his campaign and Russia, and he lamented that the special counsel's investigation into the matter has had an impact on U.S.-Russian relations.
"I think the probe has been a disaster for our country," he said. "It's ridiculous what's going on with the probe."
Soon after the news conference ended, Trump boarded Air Force One with first lady Melania Trump en route back to Washington.
Trump critics reacted harshly to Trump's statements.
Former CIA director John O. Brennan wrote in a tweet: "Donald Trump's press conference performance in Helsinki rises to & exceeds the threshold of 'high crimes & misdemeanors.' It was nothing short of treasonous. Not only were Trump's comments imbecilic, he is wholly in the pocket of Putin. Republican Patriots: Where are you???"
Sen. Lindsey O. Graham (R-S.C.), an ally of the president who has been critical of him at times, tweeted: "Missed opportunity by President Trump to firmly hold Russia accountable for 2016 meddling and deliver a strong warning regarding future elections. This answer by President Trump will be seen by Russia as a sign of weakness and create far more problems than it solves."
Referring to a souvenir soccer ball that Putin handed Trump toward the end of the news conference, Graham added, "Finally, if it were me, I'd check the soccer ball for listening devices and never allow it in the White House."
Shortly before the news conference began, security personnel forcibly removed a journalist who was holding a sign reading, "Nuclear Weapon Ban Treaty." Before he was removed, he had been heckling TV reporters doing their stand-ups.
Seated alongside Putin to deliver opening remarks before reporters at the start of the summit, Trump congratulated Russia on successfully hosting the World Cup soccer tournament, which concluded Sunday, then noted that the United States and Russia have "not been getting along too well for the last number of years." He said he hoped that would change and that "I think we will end up having an extraordinary relationship."
"Getting along with Russia is a good thing, not a bad thing," Trump said, as Putin slouched in his chair. Trump added that the "world wants to see us getting along."
Trump said before the closed-door meeting that he and Putin had a "lot of good things to talk about, and things to talk about," including trade, military issues, nuclear proliferation and China, in particular their "mutual friend," Chinese President Xi Jinping.
Trump did not mention Russia's interference in the 2016 presidential campaign as one of the topics to be discussed before the meeting began.
Putin, who spoke before Trump made his opening remarks, said to the U.S. president: "Of course, the time has come that we speak extensively about our bilateral relations and various problem points around the world. There are enough of them that we ought to pay attention to them."
The meeting began later than originally planned, after the perennially tardy Putin arrived in Helsinki well behind schedule, keeping Trump waiting. The one-on-one meeting lasted about two hours, longer than anticipated. It was initially scheduled to take 90 minutes.
The two leaders then went into an expanded meeting that included top aides. At the start of it, Trump, responding to a shouted question from a reporter, said: "I think it's a good start. Very, very good start for everybody."
Although most U.S. officials argue that Russia's interference in the 2016 U.S. presidential election, alleged use of a nerve agent on British soil, and aggression in Ukraine and Syria have worsened relations, Trump instead faulted "U.S. foolishness and stupidity" in tweets Monday morning, as well as the expansive Justice Department investigation into Russia's election intrusion.
"Our relationship with Russia has NEVER been worse thanks to many years of U.S. foolishness and stupidity and now, the Rigged Witch Hunt!" Trump tweeted Monday morning as he prepared for his meeting with Putin.
Trump was facing immense pressure to aggressively confront Putin over Russia's election interference, especially after the Justice Department indicted 12 Russian intelligence officials Friday and charged them with hacking and stealing Democratic emails as part of a broad subterfuge operation that U.S. intelligence agencies believe was ordered by Putin to help elect Trump.
But Trump's comments Monday were in sync with the argument Putin and his government have long made, which is that the policies of the Obama administration — as well as the investigation into election interference, which Putin repeatedly has denied — inflamed tensions between the two nuclear superpowers. The Russian Foreign Ministry's official Twitter account retweeted Trump's "U.S. foolishness and stupidity" tweet and added, "We agree."
Trump was joined in Helsinki by Secretary of State Mike Pompeo, national security adviser John Bolton, Chief of Staff John F. Kelly and other advisers, including Fiona Hill, a Russia expert on the National Security Council.
Earlier in his trip to Europe, Trump told reporters he would raise the issue of election interference with Putin, although he indicated that he would not be too stern, saying he assumed Putin would deny responsibility before moving on to other topics.
In another Monday morning tweet, Trump sought to pin blame for the matter onObama.
"President Obama thought that Crooked Hillary was going to win the election, so when he was informed by the FBI about Russian Meddling, he said it couldn't happen, was no big deal, & did NOTHING about it. When I won it became a big deal and the Rigged Witch Hunt headed by Strzok!" Trump wrote, referencing first 2016 Democratic presidential nominee Hillary Clinton and then FBI agent Peter Strzok, who testified before Congress in a combative hearing last week.
Trump arrived with the first lady in Helsinki late Sunday, after spending the weekend golfing at his property in Scotland. Aboard Air Force One, the president aired some of his grievances on Twitter ahead his upcoming summit with Putin.
"Unfortunately, no matter how well I do at the Summit, if I was given the great city of Moscow as retribution for all of the sins and evils committed by Russia over the years, I would return to criticism that it wasn't good enough — that I should have gotten Saint Petersburg in addition!" Trump wrote.
And after a week of denigrating the U.S. news media on foreign soil, Trump continued in his tweetstorm: "Much of our news media is indeed the enemy of the people and all the Dems know how to do is resist and obstruct! This is why there is such hatred and dissension in our country — but at some point, it will heal!"
philip.rucker@washpost.com
anton.troianovski@washpost.com
seung-min.kim@washpost.com
William Branigin and John Wagner in Washington contributed to this report.