BREAKING NEWS: Zimbabwe Parliament speaker says President Robert Mugabe has resigned
Putin-Trump bilateral in Vietnam 'likely': Kremlin

AFP
11/8/2017
© Evan Vucci President Donald Trump met with Russian President Vladimir Putin at the G20 Summit in Hamburg, Germany, in July. Russian President Vladimir Putin and his U.S. counterpart, Donald Trump, will likely meet on the sidelines of the APEC summit, but Moscow and Washington have yet to agree on details, the Kremlin said Wednesday.

Both leaders are headed to the Asia-Pacific Economic Cooperation summit in the Vietnamese city of Da Nang this weekend, where Trump is set to address global CEOs.
"Putin and Trump both have full programs and bilateral meetings, which have been arranged in advance and then there is the program of the summit itself," Kremlin spokesman Dmitry Peskov told reporters.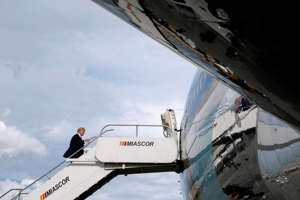 Photo gallery by photo services
"That is why the relevant services are trying to determine the appropriate time and format" for a meeting between the two leaders, Peskov said, adding that "there is a strong likelihood of such a meeting."
The pair last met at the G20 summit in Germany in July.
Putin's foreign policy adviser Yury Ushakov said it would be "logical" for Trump and Putin to meet.
"We are ready to hold a separate bilateral meeting," he told journalists. "There are things to discuss, from Syria to North Korea."
"There are many problems in bilateral relations. They are in a disastrous state," he said.
Trump said Sunday that he thinks "it's expected we'll meet with Putin" to discuss North Korea.
Relations between Moscow and Washington have plummeted as a Washington probe has accused Trump's former campaign aides of secretly meeting Kremlin-connected officials.
Russia has vehemently denied allegations of interfering in the U.S. election last year that brought Trump to power.