Tensions With Iran Reach the Point of Inevitability

The Atlantic
7/18/2019
Video by TIME
Something like this was bound to happen.
The U.S. Navy shot down an Iranian drone over the Strait of Hormuz after President Donald Trump said it came within a "threatening" range and ignored "multiple calls to stand down."
Trump said the action taken by the USS Boxer, a Wasp-class amphibious assault ship, was "defensive." "This is the latest of many provocative and hostile actions against vessels operating in international waters," he added. 
The confrontation came amid escalating provocations by the Iranian government, lashing out against the Trump administration's "maximum pressure" campaign. Still, Trump has been reluctant to use force—on a recent occasion pulling back on a strike after Iran shot down an American drone, saying the U.S. response wouldn't have been proportionate. Today's action allows the Trump administration to appear tough, but, given the tensions, it also risks escalation in an already volatile region.
The Trump administration has coupled its tough talk against Iran with escalating sanctions designed to cripple Iran's economy. As part of this effort, the Treasury Department on Thursday sanctioned a network of front companies and agents that it said were "involved in the procurement of sensitive materials for sanctioned elements of Iran's nuclear program." Other aspects of the Iranian economy have also been sanctioned, and the Revolutionary Guard Corps has been labeled a terrorist organization. These steps will have far more of an impact on Iran's actions than Thursday's downing of a drone.
Washington has also accused the Islamic Republic of attacking tankers in the Gulf of Oman. Meanwhile, Iran has increased its uranium-enrichment activity to a level that imperils its commitment to the 2015 nuclear deal, which the Trump administration withdrew from last year. The deal's European signatories have been unable to provide Iran with sufficient economic relief, because most such attempts would violate American sanctions.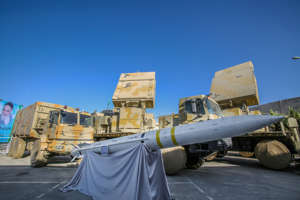 Slideshow by photo services
Behnam Ben Taleblu, a senior fellow at the Foundation for the Defense of Democracies, said in a statement that the tensions were unlikely to lead to "World War III," adding that Iran's goal was to get "America to cease its maximum pressure campaign" and "return to" the nuclear deal.
"While the regime in Tehran will need to recalibrate in the short term, it's likely that Iran will continue to escalate in other theaters, be it across the Gulf region or in cyberspace," he said.
Last month Trump considered air strikes on Iran after it shot down a U.S. surveillance drone, but pulled back at the last minute because of the possibility of civilian casualties. At the time, Trump said killing Iranians wouldn't be "proportionate to shooting down an unmanned drone."
The U.S. action today satisfies Trump's cautious approach to military action. The president, despite some of his more hawkish advisers' instincts to the contrary, has adamantly opposed any action that could metastasize into a wider conflict. (His major intervention in Syria came only after the Assad regime used chemical weapons on civilians, including children.) In the ongoing tensions with Iran, he has preferred to let sanctions do the talking while signaling that he is open to dialogue. Yet Iran's continued provocations have become hard to ignore. This week it seized a Panamanian-flagged, UAE-based tanker and accused its crew of smuggling fuel. Last week, the U.K. defense ministry said Iran tried to block passage of a British tanker in the Strait of Hormuz; that's after British forces seized an Iranian tanker they said was headed to Syria in violation of European sanctions against the Assad regime.
Even though both sides—the U.S. and Iran—insist they don't want war, the preexisting tensions in the region, combined with Iran's anger at being denied the benefits of the nuclear agreement, mean that one miscalculated provocation could lead to a larger conflagration.
"We live in a very dangerous environment," the Iranian foreign minister, Javad Zarif, said Thursday at the United Nations before news of the drone was made public. "The United States has pushed itself and the rest of the world into probably the brink of an abyss."