Trump claims victory at NATO summit after fresh row over defense spending

The Guardian
7/12/2018
Video by CBS News
Donald Trump claimed victory at the NATO summit, saying progress had been made on defense spending after throwing the Brussels meeting into chaos with fresh attacks on European allies.
Asked if he had threatened to pull out of NATO, he did not directly deny it. He told a surprise press conference before he was due to leave that he only told people he would be very " unhappy" if spending was not raised.
The U.S. president, however, claimed he could pull out of NATO without the approval of Congress. He said the alliance members had agreed to get to spend 2% of GDP faster than previously and claimed financial commitments would increase beyond that in the future.
But other delegations and NATO officials contradicted Trump, saying he had secured no significant concessions and their defense spending plans remained basically the same as they had been before the summit.
The French president, Emmanuel Macron, denied Trump's claim that NATO powers agreed to increase defense spending beyond previous targets.
The renewed criticism of European NATO members for not spending enough on defense came at a closed session on Thursday morning that had been intended to be confined to non-budgetary issues.
The U.S. president's outburst led to the scrapping of a series of planned press conferences and bilateral meetings as European leaders struggled to respond. Theresa May and Angela Merkel cancelled press conferences.
Trump turned up late for the morning sessions involving NATO leaders, intended to discuss the accession of Ukraine and Georgia to the alliance. When he delivered his rebuke over defense spending, the Ukrainian and Georgian leaders were asked to leave because it was a purely NATO matter.
Soon after, the meeting broke up. European leaders retreated to their offices for discussion with their officials.
At a 35-minute press conference at NATO headquarters, Trump seemed to contradict his earlier criticism of NATO and the European member states. He said U.S. commitment to NATO "remained very strong" and the "fantastic" meeting of the alliance members had demonstrated "a great collegial spirit."
He added: "NATO is much stronger now than it was two days ago."
Trump, who leaves Brussels for a visit to the UK, said he was fine about the protests planned for his trip and insisted he was popular in the UK.
He said he had described the UK as "a hotspot" because of Brexit and the cabinet resignations.
"There will be protests. There will always be protests," he said, adding that people in the UK liked him and agreed with him on immigration.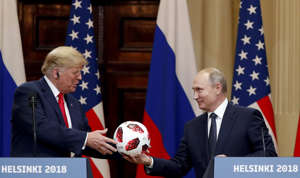 Slideshow by photo services
The turmoil at the NATO summit came a day after Trump strongly criticized Germany for not spending enough on defense. Officials from the European delegations subsequently said he had been relatively calm in the closed sessions later in the day and during a working dinner.
In spite of that, a tweet from Trump on Wednesday showed he remained far from satisfied with the European response.
The tweet fitted into a pattern throughout the two-day summit, with Trump at one moment ranting at European allies and the next insisting relations are good.
What good is NATO if Germany is paying Russia billions of dollars for gas and energy? Why are there only 5 out of 29 countries that have met their commitment? The U.S. is paying for Europe's protection, then loses billions on Trade. Must pay 2% of GDP IMMEDIATELY, not by 2025.

— Donald J. Trump (@realDonaldTrump) July 11, 2018
Five of the 29 NATO members have reached the target of spending at least 2% of GDP on defense. These include the U.S., which spends 3.5%, and the UK on just over 2%.
Trump had planned to step out of the closed session to hold bilateral meetings with the leaders of Azerbaijan, Romania, Ukraine and Georgia.