Trump Floats Idea NATO Allies Should Double Defense Spending Target

Bloomberg
7/11/2018
Video by Reuters
(Bloomberg) -- Not content with pressuring NATO allies to raise their defense spending to 2 percent of economic output, U.S. President Donald Trump proposed doubling the target.

Trump's suggestion was informal and made in a closed-door session of a North Atlantic Treaty Organization summit in Brussels on Wednesday, but it did little to ease tensions at an already charged meeting.
The atmosphere in the hall "wasn't the most pleasant," Bulgarian President Rumen Radev told reporters, according to an transcript emailed by his office. Leaders were left "in a confused state," wondering how serious Trump was and what the ramifications might be.
The suggestion added strain to a gathering that's shaping up into a fight on several fronts, with Trump accusing Germany of being a "captive" to Russia over its support for the Nord Stream 2 gas pipeline, and badgering it and others to meet a defense-spending target that only five of the 29 NATO members currently meet.
NATO set a goal at a 2014 meeting in Wales for members to spend a set proportion of gross domestic output on defense. Internally, not even NATO uses the figure as a standalone measure of what makes a good ally. Trump's idea wasn't reflected in the summit conclusions.
Nine Charts That Explain Trump's Battle Over Defense Spending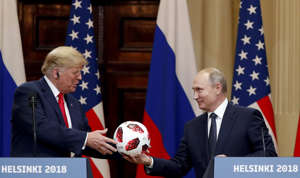 Slideshow by photo services
According to a French official, Trump said it would be a good thing if everyone spent around 4 percent on defense, which was presumed to be a generous rounding up of the U.S. budget of some 3.57 percent of GDP. It wasn't a demand, rather just a mention, the French official said. No-one commented on the proposal, according to a separate European official familiar with the discussion.
Still, Trump is using the 4-percent argument to ram home his message that the U.S. gets a bad deal from allies. His point, White House Press Secretary Sarah Huckabee Sanders said, is that NATO members should be putting far more into their military budgets.
Raised it Before
"During the president's remarks today at the NATO summit he suggested that countries not only meet their commitment of 2 percent of their GDP on defense spending, but that they increase it to 4 percent," Sanders wrote in an email. "The President raised this same issue when he was at NATO last year. President Trump wants to see our allies share more of the burden and at a very minimum meet their already stated obligations."
Asked about Trump's comments, NATO Secretary General Jens Stoltenberg was
reluctant to endorse such a move.
"I will focus on what we have agreed and we have agreed that we committed to the pledge increasing defense spending to 2 percent," he told reporters. "And let's start with that. We have a way to go."
The day began with Trump in combative mode, telling Stoltenberg over a working breakfast it was "very sad when Germany makes a massive oil and gas deal with Russia where we're supposed to be guarding against Russia." Trump, who will hold a summit with Russian President Vladimir Putin on Monday, added that "it's something NATO has to look at."
QuickTake: The Pipeline That Pits Trump Against Merkel and Putin
Trump mentioned the gas pipeline again in the closed session, according to two officials. At this point Merkel, who was brought up in East Germany, responded that she grew up under Soviet rule and "the guy you are meeting on Monday was a spy for this regime."
Breakfast Outburst
After his morning outburst, everyone was expecting the worse possible outcome, according to the European official. But Merkel, French President Emmanuel Macron and other leaders didn't rise to his bait, and the closed-door exchanges were milder than expected. In fact, Trump ended his intervention by telling fellow leaders how much he loves Europe, and that both his parents were born in Europe.
Still, the big question for European governments now, the official said, is what will Trump say when he meets Putin in Helsinki.
Trump, in a by-now familiar move seen at the G-7 in Canada, angrily took to Twitter after he left the summit.
"What good is NATO if Germany is paying Russia billions of dollars for gas and energy? Why are their only 5 out of 29 countries that have met their commitment? The U.S. is paying for Europe's protection, then loses billions on Trade. Must pay 2% of GDP IMMEDIATELY, not by 2025."
--With assistance from Viktoria Dendrinou, Gregory Viscusi and Nikos Chrysoloras.
To contact the reporters on this story: Slav Okov in Sofia at sokov@bloomberg.net;Margaret Talev in Washington at mtalev@bloomberg.net;Patrick Donahue in Brussels at pdonahue1@bloomberg.net
To contact the editors responsible for this story: Alan Crawford at acrawford6@bloomberg.net;Flavia Krause-Jackson at fjackson@bloomberg.net
©2018 Bloomberg L.P.