Trump's Jerusalem fallout: Hamas leader calls for new 'intifada'
USA TODAY
12/7/2017
Video by Newsy
The leader of the Palestinian Islamist group Hamas called Thursday for a new "intifada" or uprising against Israel after President Trump said the U.S. would recognize Jerusalem as Israel's capital and begin moving its embassy to the city. 

In a news conference in the Hamas-controlled Gaza Strip, Ismail Haniya said Washington's decision amounted to a "war declaration against Palestinians" that "killed" the Israel-Palestinian peace process. 
It came after the Palestinian "national and Islamic forces" announced three days of rage starting Wednesday and ending Friday.
"We call on all our people in Israel and around the world to gather in city centers and Israeli embassies and consulates, with the aim of bringing about general popular anger," the joint statement said, according to the Jerusalem Post.
Trump's controversial decision upended decades of U.S. policy on Jerusalem and countered long-standing international assurances to the Palestinians that the fate of the city, claimed by Israelis and Palestinians, would be determined in negotiations.
Staunch U.S. allies France and the United Kingdom have condemned Trump's decision and Saudi Arabia, a key U.S. ally in the Middle East, called it "irresponsible."
More: Trump's Jerusalem plan signals to Palestinians: less you give up, more you lose
Haniya said the uprising should start Friday, the Muslim holy day. "We want the uprising to last and continue to let Trump and the occupation regret this decision." 
Israel, the U.S. and the European Union consider Hamas either wholly or in part to be a terrorist organization. The group killed hundreds of Israelis during the Second Intifada, an armed uprising against Israel's occupation of the West Bank and the Gaza Strip in the early 2000s.
Previous Palestinian leader Yasser Arafat led the First Intifada from 1987 to 1993. Hamas is currently locked in a feud with Fatah, the Palestinian nationalist movement led by Palestinian Authority President Mahmoud Abbas.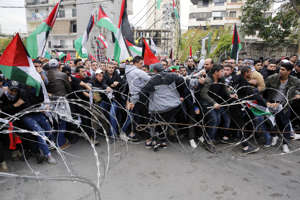 Sideshow by photo services
Abbas was expected to travel to Jordan on Thursday to meet with King Abdullah II. The monarch, who enjoys good relations with the U.S., is seen as Abbas' closest Arab ally, and the two leaders might try to coordinate a response to Trump's policy change.
On Wednesday, Abbas said in an address that Washington's move was a "reward to Israel" that encourages Israel's "continued occupation" of Palestinian areas.  
It remains unclear how destructive any new intifada from Hamas might be. The group's ability to carry out attacks is now more limited after Israel imposed a blockade on the Gaza Strip. Many of Hamas' supporters in the West Bank also have been arrested.
Israeli Prime Minister Benjamin Netanyahu said on Thursday that Trump had "bound himself forever" to the history of Jerusalem by recognizing the city as Israel's capital. He also claimed that other nations would follow suit and make a similar recognition. 
Meanwhile, Israel's military said it would deploy additional troops to the West Bank ahead of Friday, when mass Palestinian protests are expected in response to Trump's move. Palestinians went on strike across the West Bank, east Jerusalem and Gaza Strip on Thursday and protests are expected on Friday after midday prayers.